Cheap Wedding

›
Centerpieces
› Alternative
Cheap Wedding Centerpiece Idea
Without Flowers

Find the cheap wedding ideas you are looking for:
Fed up with flowers?
Or just too expensive?
Don't worry there are lots of alternatives for your cheap wedding centerpiece idea.
How about combining your favors with your centerpieces?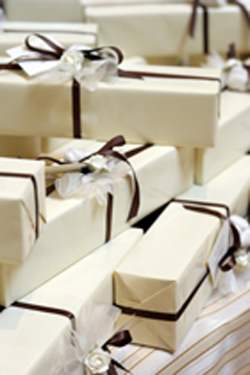 You could have a pyramid of favor boxes in your wedding colors in the center of the table. Or my personal favorite, a small branch of a tree, sprayed either silver or white (you could add glitter for sparkles) then secure it in a pot with either florist oasis, clay, even cement - you don't want it to move. Then decorate the pot and tie your favors to the branches. If you have a beach theme you could have a child's toy boat in the middle laden with favors.

Bowls of your favorite candy or a silver tray with tapas, at Easter you could have a glass bowl filled with chocolate eggs, at Christmas time fill the bowl with tree candy or mini chocolate santas.
Think about your wedding colors could you enhance these by putting a clear glass vase as a centerpiece and fill with wrapped sweets.
Fun Centerpieces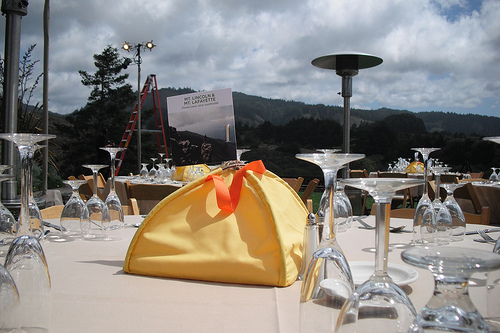 Photo by Ken Mayer

Bring back your childhood with easy to play games for each table; Lego, pick up sticks, trump cards, jenga, make sure the games can be played quickly and involve the whole table. This is also a great ice breaker. With the building bricks you could set each table a challenge! Make a wedding cake out of bricks. It's all about having fun.
Try Amazon for traditional table top games, they have lots you haven't seen in a while and some are cheap - marbles, trumps, pick up sticks. 
Balloon Centerpieces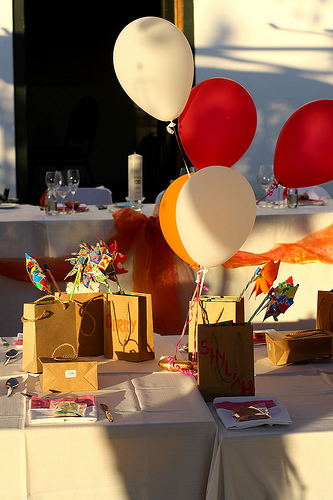 Photo by Warren Ski

Balloon decorations can look great, there are a huge choice of colors and designs that can give an instant lift to your reception room.
If you are feeling creative have a look at The Balloon Decoration Guide which offers detailed step-by-step instructions and photos on how to create your own balloon decorations and integrate them into your wedding reception decor.
You could also use...
Books that are themed to your wedding or are both of your favorite authors. You can also name the table after an author or a book.
Photo centerpieces of both of you or family members on their wedding day. This is an extra special way to include couples that are no longer with you to celebrate.
Cheap Centerpiece Supplies
Check out the suppliers below for great deals on decorations for your tables.
Beau Coup - Lots of great discounts on their centerpieces
Koyal Wholesale - wholesale wedding supplies
Luna Bazaar - Wedding Centerpieces
Amazon - Centerpiece supplies
Ebay - Centerpiece Sellers

As an Amazon Associate I earn from qualifying purchases.
Other links on this site may lead to other companies that I'm associated with and this is how I can keep this site going and save you money on your wedding.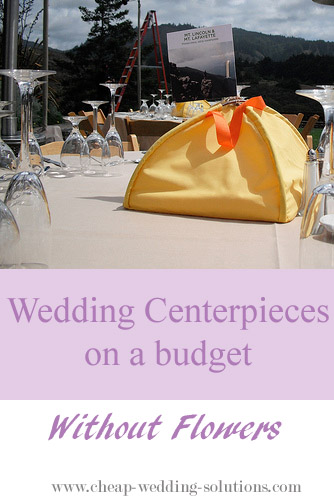 Keep Up To Date With All The Latest Wedding Savings
top of page