Cheap Wedding › Flower Centerpieces › Artificial
Artificial Flower Centerpieces
Find the cheap wedding ideas you are looking for:
There are different types of artificial flowers - from floral picks to bushes, sprays, stems and cuttings. To be honest you can get any type of flower and some that don't even exist in nature!
There is a variety of artificial flowers available in the market today but the best ones are those made of silk. Like everything you get what you pay for, you should always look for the best flowers you can afford for your centerpiece. To keep your costs down you will want a few stunning flowers and then bulk the rest of the centerpiece with cheaper flowers and foliage.
Are Artificial Flowers OK?
 Not really as it depends on the quality of your artificial silk flowers. Moreover, silk flowers have some advantages over fresh flowers.

There is no lacking of colorful and varied silk flowers no matter what season and location. Silk flowers stay "fresh" and is recyclable as they will never fade or wilt. At times, artificial flower centerpieces look more natural and fresher than real blooms. And the big advantage is that they last for ages, so although they may cost a bit to start with you don't have to replace the display very often.

Here are some ideas for beautiful artificial flower centerpieces.

Image: Brainedge
Gerberas and Daisies Artificial Flower Centerpiece
Silk gerberas and daisies definitely look cheerful that they are a great choice for artificial flower centerpieces for any occasion. Silk gerberas and daisies are easily available in a variety of colors, which makes choosing colors to match your party's motif is not a problem.
Big, bold and rounded gerberas are great for artificial wedding centerpieces. Chrysanthemum daisies are smaller than gerbera daisies but they do have several flower blooms per stem. Yellow daisies are the classic white petaled-yellow-centered daisies. A nice artificial flower arrangement is a spray of any of these daisies. It is best to use only a variety of daisy but in different colors.
Red Roses Silk Artificial Flower Arrangement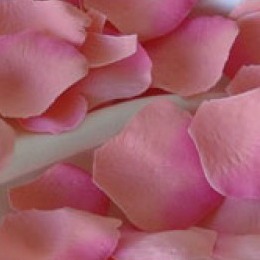 For a romantic centerpiece suitable for a wedding, silk red roses are a fitting option. This flower arrangement is also suitable for intimate dinners at home or in large gatherings.
You are not limited to red roses as there is a variety of colors for silk roses from white to pink to red to lavender. There are silk roses in various sizes and styles from small petal-ed ones to big cabbage roses.
For a lush garden effect, arrange different colored-roses and arrange them in a basket. Put enough foliage for a lush garden effect. If you prefer a more classic arrangement, choose a nice glass or ceramic vase and fill with just one color silk roses.
You can also buy silk rose petals which you could scatter on the tables as part of your table decoration.
Exotic Silk Orchids Artificial Flower Centerpiece
Orchids are exotic and elegant. Fresh orchid blooms are hard to come by and are quite expensive, plus I find they are tricky to look after.
This is a great idea for an elegant wedding reception centerpiece or for a tropical island party theme or even an Asian-inspired theme.
There is a wide selection of silk orchids available such as dendrobiums, oncidiums, slipper, phalaenopsis, Vanda, cattleya, cymbidium and more. These silk orchids have varied sizes and colors of blooms and it is up to you which are the ones that you prefer for your artificial flower arrangement.
A nice arrangement is for you to use a tall clear vase and fill it an uneven number of tall orchid stems. If the stems are too tall, cut them down the right size. Another idea for an artificial flower arrangement is to use a low ceramic bowl. Fill it with floral foam to stick in the orchid stems. Make sure you place the longest stems at the bottom of the centerpiece so that they drape from the vase to the table.
Paper Flowers
Photos courtesy of Andrew Malone
Paper flowers are really popular at the moment and they are something you can make yourself. Plus they are my favorite type of artificial flower because you can see what they are made from.
All you will need is tissue paper, wire or pipe cleaners and maybe beads or buttons for the center of the flower. You don't need the center part for the flowers for them to look great.
As you can see in the pictures the flowers look stunning close up and as a table centerpiece.
Inexpensive Artificial Flower Supplies
As an Amazon Associate I earn from qualifying purchases.
Other links on this site may lead to other companies that I'm associated with and this is how I can keep this site going and save you money on your wedding. 
Keep Up To Date With All The Latest Wedding Savings
top of page