Bridesmaid Tote Bag
Find the cheap wedding ideas you are looking for:
Product Code: JDS - GC1116
Availability: In Stock, usually ships in 2/3 days
Price: $18.99
Shipping: $2.00 Standard
Personalize with one line of up to 15 characters
SIZE: 14.5" L X 14" H X 1" W with 26" Shoulder straps

Big Choice Of Tote Bag Designs
Choose your favorite design for your tote bag and let us know on check out which one you would prefer, along with your personalization.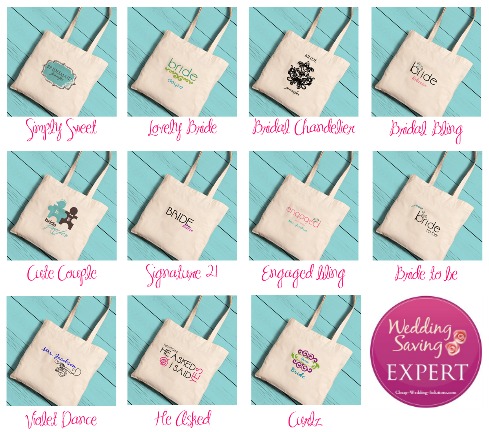 Order 10 tote bags, one for each of you and and the price is $13.99, plus you will also get free shipping too.
As an Amazon Associate I earn from qualifying purchases.
Other links on this site may lead to other companies that I'm associated with and this is how I can keep this site going and save you money on your wedding. 
Keep Up To Date With All The Latest Wedding Savings
top of page