Home

›
Jewelry & Accessories
› Celtic
Cheap Celtic Wedding Bands Guide

Find the cheap wedding ideas you are looking for:
Cheap Celtic Wedding Bands are more about what they represent rather than the cost of the item.
Celtic wedding bands have been used for hundreds of years. Some rings are decorated with Celtic knots and patterns and some with animals and birds.
The Meaning Behind The Celtic Knot

The Celtic knot or endless knot has no specific beginning or end and it is believed that this represents endless life or eternal love, making it a beautiful design for your wedding ring.
There are lots of great cheap wedding bands available from Amazon.
Ebay also has some great bargains for your cheap Celtic wedding band, they also have matching sets if you wanted to wear the same.
Claddagh Wedding Rings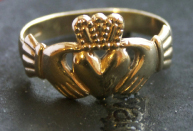 There is also the Claddagh ring with its heart, hands and crown. The heart means love, the hands friendship and the crown loyalty.
The phrase "With my hands I give you my heart and crown it with my love" is a beautiful way to give a Claddagh ring to your love. These rings are used for engagements, friendship, anniversaries and of course weddings.
Again, Amazon has some amazing prices on Claddagh rings.
The Claddagh rings on Ebay are more unusual and there are lots of different styles, some traditional and others a more modern design, but all have the heart, hands and crown. It wouldn't be a Claddagh ring without them.
As an Amazon Associate I earn from qualifying purchases.
Other links on this site may lead to other companies that I'm associated with and this is how I can keep this site going and save you money on your wedding. 
Keep Up To Date With All The Latest Wedding Savings
top of page