Home > Destination > Cruise
How To Find A Cheap Cruise
For A Wedding
Find the cheap wedding ideas you are looking for: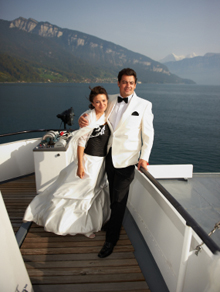 Finding a cheap cruise for a wedding is possible, have a look at our proven ways to grab yourself a bargain.
Having your wedding on-board a great cruise ship is one of the most romantic locations you could wish for, what you need to realize is that while you can get married on some ships, regulations state that you need to be in port or at the most 3 miles from shore on most. Carnival and Princess have chapels on their ships or others will organize a wedding at one of the ports you are due to stop at.
A great perk on having your wedding while on a cruise is that you may get a cabin upgrade or even a bottle of Champagne to help you celebrate.
The best bargain ideas for finding a cheap cruise is to have a look at off season cruises or low demand. For Alaska you are looking at May and September, Canada and New England July and August are their low season, the Caribbean has two low seasons, Late April to May and September to early January apart from the Christmas and New Year holiday weeks. There is the threat of hurricane season June to November, we were in the Caribbean in August a few years ago and only experienced a couple of cloudy days. The Mediterranean's low seasons are March to April and September to November.
Have you ever heard of repositioning cruises? These are when the cruise lines are looking to move their big ships to the next route, they are normally only a few days but you get all of the luxury, definately worth looking at if this will be your first cruise.
Don't bother with very last minute bargains when you are arranging your wedding cruise. Most of the cruise lines ask for you to have booked with 3 months notice before your wedding! Not much last minute about 3 months in advance!
Have a look at organising the parts seperately, book your flights and cruise seperately if it saves you money.
When you are comparing cruise prices make sure you read the small print as they may not include port charges, taxes, shipping and handling fees.
I have found that a cheap cruise for your wedding can be found at cruisedirect.com use this website to price compare the various cruise lines and their packages. It doesn't seem worth booking direct with some of cruise lines as they don't offer a discount, the travel agents do!
Another website worth having a look at is Travelocity for their Cruise Deals: Biggest Sale of the Season!! They will have a list of the deals on at the moment.
Good luck finding your cheap cruise for a wedding and don't forget to send me the photos! 

As an Amazon Associate I earn from qualifying purchases.
Other links on this site may lead to other companies that I'm associated with and this is how I can keep this site going and save you money on your wedding. 
Keep Up To Date With All The Latest Wedding Savings
top of page