Cheap Wedding

›
Dress
› David's Bridal
Cheap Davids Bridal Wedding Gown
Find the cheap wedding ideas you are looking for:
If you are looking for a cheap Davids Bridal Wedding Gown, Amazon is a good place to start.  They have lots of sample sale wedding dresses from them.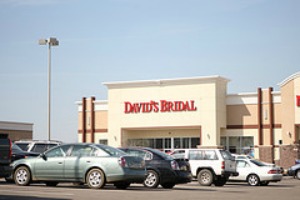 Davids Bridal is the biggest wedding dress supplier in the United States and according to msnbc over one third of brides will buy their wedding dress from David's Bridal! And that many brides can't be wrong.

You can also shop in one of their many stores or if you don't live in the United States then have a look at their online store. However not all of the wedding dresses are available in their online store.
I used to say go straight to David's Bridal and sign up to their newsletter as they often sent coupon codes to their newsletter subscribers, however the deals have got less and less.
Instead, take a look at all of the great Davids Bridal wedding dresses that are available on Amazon.
Seriously there is so much choice and the prices are really good. 
There are hundreds of cheap David's Bridal gowns to choose from, some are as little as $40, others are more. Like everything you do pay for what you get.
However there are lots of sample sales on Amazon from Davids Bridal so you will get a great deal.
Money Saving Tips On Your Davids Bridal Dress
Don't forget you may find that the dress you have chosen will need altering, David's Bridal do have an alterations service if you buy direct from them but it is an additional cost. You can have a free alterations consultation to see how much it will cost, the more complex alterations will cost more. You may find that after alterations your cheap David's Bridal wedding gown that you found in the sale may not end up being that cheap in the end.
Please check how much your alterations are going to cost before you decide to buy.
As well as buying a new wedding dress you will also be able to find a number of secondhand David's Bridal wedding dresses. Have a look on Craigslist.org and keep checking all of your local wedding forums, as well as Ebay. If you do decide to go ahead with a once worn dress make sure you have all the information you need.
Questions to ask your seller:
Has it been cleaned?

Has it been altered?

Are there any stains on the hem?

Make sure you see lots of photos if you are buying online or go and try it on if they are local to you.
Good luck finding your cheap Davids Bridal wedding gown!
As an Amazon Associate I earn from qualifying purchases.
Other links on this site may lead to other companies that I'm associated with and this is how I can keep this site going and save you money on your wedding. 
Keep Up To Date With All The Latest Wedding Savings
top of page