Cheap Wedding

›
Favor
› Homemade
Cheap Homemade Wedding Favors
Local To You
Find the cheap wedding ideas you are looking for:
Wedding favors are your way to say thank you to your guests for coming to your wedding and sharing your special day. Having a homemade favor makes your thank you even more special as it shows the time and love you have put into it.
So many times at weddings I have seen the favors being left, not because the guests don't appreciate it but more because in the excitement they have forgotten to pick theirs up. So before you start making all of your wedding favors it is worth thinking about how you are going to avoid them being left behind.
One way is to write a special message on each favor, if you have the time maybe you could personalize them too. You could do this with a tag tied to the favor and have each guests name or at least a thank you for coming.
If you have chosen favors that are special to your region then it might be a good idea to have the descriptions of what they are and the importance added to the tag, especially if your guests are from out of town.
Local Wedding Favors
You could  look to have regional favors, buy mini jars or bottles of the product and have them decorated for your favors. These mini honey jars have a sticker with the bride and groom's names on the top, perfect!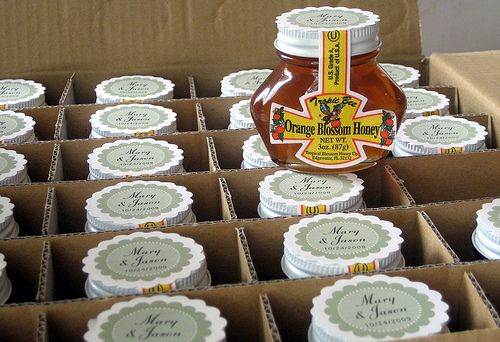 Image: Mary Witzig

Traditional Favors
It is tradition in quite a few countries to gift sugar almonds as wedding favors, in Italy you give 5 sugar almonds to your guests to represent health, wealth, happiness, fertility, and longevity for the bride and groom. In Greece the sugared almonds are always given in odd numbers to show that everything between a husband and wife cannot be divided equally and therefore everything is shared. In the Middle East they are considered aphrodisiacs! Just adding a little note to the tag gives the favor much more meaning to the guests.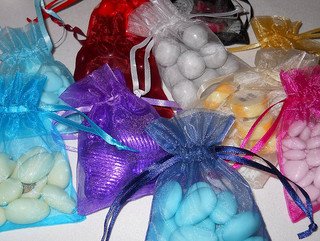 Scottish Themed Favors
If you are of Scottish descent you could think about having tablet as your homemade wedding favor. This is a mixture of sugar, condensed milk and butter. You could make a big batch for your wedding favors and then wrap them in colored cellophane and tie them with a ribbon and add a tag. There is a great recipe here.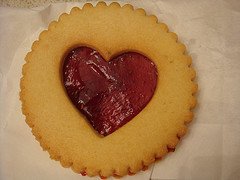 Another Scottish favorite would be shortbread. You could have homemade heart shaped shortbread maybe with your initials and the date if your icing skills are up to it! Or you could go with an Alice in Wonderland theme and have the jam tarts that the Queen of Hearts was baking! You could also go with cookies if you don't like shortbread. If you have an old family recipe that you are going to use you could have that added to the tag so that your guests can have a try when they get home.
All of them can be wrapped in clear cellophane so that your guests can see how pretty they look.
If you are of Irish descent then maybe think about making a batch of Irish fudge, you could flavor it with Irish whiskey! Best put a warning on it just in case the children get hold of it!
English Themed Favors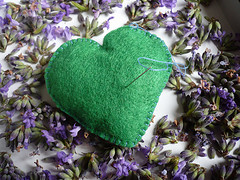 If you are of English descent you could think about making lavender bags, lavender bath salts or even lavender soap. The salts and the lavender bags would be the easiest to make, and you could package both of them in paper cones in your colors.
If you are of African descent then the Kola nut plays an important part in the wedding traditions where the nut is used in traditional healing. The Kola nut is shared between husband and wife and their parents to show their willingness to heal each other if needed. You could share the Kola nuts as favors with your guests. Cowrie shells would also make great favors as they originate from West Africa and represent fertility and prosperity, plus they are beautiful as well.
All of these ideas would work well as cheap homemade wedding favors, they are cheap because you will be making and packaging them yourself. It might be a good idea to call in your friends for a few evenings to get them to help too!
Having the labels on the favors will help make sure they don't get left behind and you could always have a basket filled with your favors for your guests to help themselves to as they leave.
I would love to hear from you if there are any other regional wedding favors that you have made yourselves, just drop me a line in the contact form or add it the comments below.

More Gorgeous Homemade Wedding Favors
Cooking, with days leading up to your wedding, may not be a practical option; it's not your kitchen, there are a thousand things to do and no where to store them. The solution are these very tasty, no cooking involved, wedding favors. You will be able to prepare these favors weeks in advance.

Hot Chocolate & Marshmallow Favors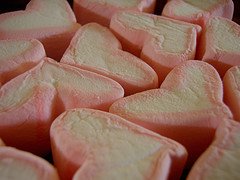 Hot Chocolate in a jar, buy ready made hot chocolate in bulk and bags of mini marshmallows, plus the jars for the favors, ribbon and labels.
Fill each jar 2/3rds full with the hot chocolate powder, 
fill to the top with the mini marshmallows, and then secure the lid. 
Tie a ribbon in your wedding colors around the top of the jar and then attach your label thanking your guests for joining you. 
Make sure you include the directions on how to make up the hot chocolate and you could tie a mini whisk to the side to make the hot chocolate complete. 
A sweet thank you for your guests! You could look for these heart shaped marshmallows which would look lovely arranged around the edge - save money by filling the inside with regular marshmallows.

Tea & Coffee Favors
You can buy tea and coffee favors but there is nothing to say you can't make your own.
Use tea bags in a personalized bag or coffee sachets for 'The Perfect Blend'. You will want to choose a more gourmet offering than a standard instant coffee and the same goes for the tea. Loose tea is an option for your guests but how many will have a tea infuser? You could always include an infuser in the favor.
You could use envelopes or a homemade paper cone for the favors. The paper cone could be in your wedding colors and then have a printed label for the front. The cones could be at each place setting or you could have them in a basket at the center of each table.
Infused Oil Favors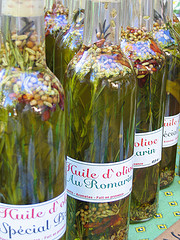 Infused olive oils are a useful and pretty favor, you will need;
a large quantity of olive oil, buy this in a drum if you are making a lot of favors, 

a funnel (otherwise it all gets a bit messy!), 

herbs, garlic, or chillis - whatever you want to flavor your oil with, 

plus you will need bottles with a stopper for the favor, ribbon and labels. 
Bruise the herbs slightly and place in the bottle, fill the bottle with the olive oil and then put the stopper on. Tie your ribbon around the top and then add your label thanking your guests. For an added personal touch you could include your favorite recipe that you use the oil with.

Yummy Edible Wedding Favors
Sometimes with all the will in the world finding time to create these wedding favors may seem impossible. For those of you feeling very time poor here are some great cheap wedding favors that may be just as good as your homemade wedding favor ideas.

As an Amazon Associate I earn from qualifying purchases.
Other links on this site may lead to other companies that I'm associated with and this is how I can keep this site going and save you money on your wedding. 
Keep Up To Date With All The Latest Wedding Savings
top of page