Home

›
Jewelry & Accessories
› Where To Find
Where To Find Cheap Jewelry
For Your Wedding

Find the cheap wedding ideas you are looking for:
Trying to find cheap jewelry for your wedding is difficult when you don't want it to look cheap.
The best way to spend nothing is to borrow from a generous friend or family member and this will add a lovely personal touch to your wedding outfit.
"The earth is like a beautiful bride who needs no manmade jewels to heighten her loveliness." ~Kahlil Gibran
How To Save Money

If borrowing your jewelry is not an option, then it helps to think about where the jewelry will have the most impact.
If you are planning on wearing a tiara then a pair of earrings is all you need to look like a princess, keep your neck free or have a simple necklace that won't detract from your wedding crown!
Definately don't worry about wearing a watch or a bracelet, unless they are included in a wedding set that you have already bought. You don't need anything to remind you how fast your day is going and the star attraction will be your new wedding ring.
If your wedding dress is sparkly then you don't need to add to it and again keep it simple with a simple necklace or earrings.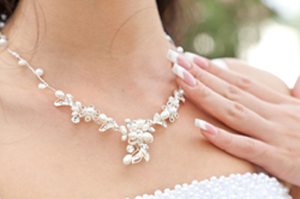 If your dress is crying out for some extra sparkle and you haven't a huge hollywood budget then cheap costume wedding jewelry could be the answer, there are some great pieces available and you don't just have to go with an imitation diamond.
Think of all the great beaded, ribbon and floral pieces that are fashionable and unusual as well as hit the mark on being cheap jewelry.
One of the best bits about it being your wedding is that you can wear something more flamboyant than normal and it won't look out of place.
Have a look at the wedding jewelry at Overstock.com as you might be able to find a great piece for much less.
Also for more unusual bridal jewelry take a look at NOVICA as they have stunning necklaces that you won't find at your local stores and they are reasonably priced.
Cheap And Stunning Wedding Jewelry Sets

What Style Of Necklace Goes Best With Your Wedding Dress?

Remember to think about the cut of your dress, strapless and spaghetti straps have more flesh to cover and therefore your necklace can be larger. Really any shape of necklace will suit this style a choker (short) or a princess cut (just over collarbone).
A round neck will be best with a choker and a 'v' neck will be best with a princess length.
You can buy longer necklaces which are sometimes called opera length but these don't really look right against a classic wedding dress. If your dress is alternative then this could be the style for you. 1928Bridal.com has vintage styled pieces without the expensive price tag.
When you are choosing cheap jewelry for your wedding see if you can borrow the jewelry to try with your wedding dress. If you are buying your dress from a wedding shop then try on the jewelry they have but don't buy unless it is a bargain. You can always go back later to get the piece but trying different styles on helps you get to see what works for you.
As an Amazon Associate I earn from qualifying purchases.
Other links on this site may lead to other companies that I'm associated with and this is how I can keep this site going and save you money on your wedding. 
Keep Up To Date With All The Latest Wedding Savings
top of page