Cheap Wedding › Dress › Plus Size
Cheap Plus Size Wedding Gown
Find the cheap wedding ideas you are looking for: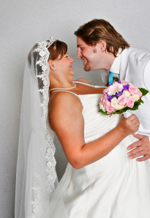 Curvy brides now can have a great choice when looking for a cheap plus size wedding gown, you may however need to make more inquiries and shop longer.
Shopping longer sounds great but is annoying if you don't get the choice that you want.
Curves are definitely the order of the day!
When looking for your wedding dress it will be a good idea to have a look at our other ideas on our dress pages.
Your dress should match your personality be it quiet and traditional or loud and pink!
Shop Plus Size Wedding Dresses
Top Tips For Plus Size Wedding Dress Buying
I am not going to tell you what style of dress would best suit you, I do not know! Only you will know what bits you will want to show off, just make sure your cheap wedding gown does just that.

Bridal shops are a good place to start, check what sizes they go up to by calling before, so that you don't waste your time on tiny dresses.
Do not put up with small dresses being pinned on to you. You want to be able to try dresses on, make sure you are happy with the movement and as my mom always says "can you sit down it?" Or I might say "Can you dance in that?" You will not know the answers to those questions by having a small dress pinned to you. You wouldn't buy any dress before trying it on first, why would you choose your wedding dress this way?
Quite often the bridal shops will have wedding dresses that they have taken the zips off and have replaced with a piece of material that they can lace at the back.
As always keep your eye out for the sales to grab yourself a discounted dress, most shops will offer an alteration service if needed but check their prices. You may find an independent dressmaker cheaper.
If you can't find what you are looking for in the shops, dressmakers will be able to make the dress of your dreams and you may be pleasantly surprised at the price. If the dress is a simple design (and not decorated with diamonds) then the cost would be less. Simple designs still look stunning.
Online bridal shops will offer more choice and a great place to search for ideas. The down side is that you won't be able to try them on, but their customer service will advise you on measurements. 
While you are online it is worth checking out places like Ebay, a great secondhand dress would save you money, just make sure you know what you're buying and try to view before hand. Have fun choosing your cheap plus size wedding gown, just think curves, curves, curves!
As an Amazon Associate I earn from qualifying purchases.
Other links on this site may lead to other companies that I'm associated with and this is how I can keep this site going and save you money on your wedding. 
Keep Up To Date With All The Latest Wedding Savings
top of page