Cheap Wedding

›
Flowers
› Silk Bouquet
Cheap Silk Wedding Bouquet Ideas

Find the cheap wedding ideas you are looking for:
Having a cheap silk wedding bouquet is a brilliant way to avoid problems such as your flowers wilting in the heat, they are allergy free (my personal favorite), maintenance free, you can buy flowers that are out of season and they will look stunning for years.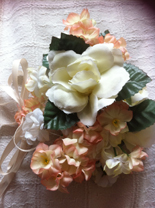 I had silk flowers at my wedding in my hair, they looked pretty and the biggest advantage for me was that they didn't set off my pollen allergy! That was in 1997, doesn't time fly when you are having fun, but the photo I took a couple of minutes ago to show you just how great they look now. Plus you can get really amazing looking silk flowers now, most people at a distance wouldn't be able to tell.
One wedding that I planned, the couple wanted silk red roses in bud vases as the table decorations, we managed to find the very realistic ones complete with a water effect on the petals. It made me smile when I saw a couple of the guests trying to sniff the roses parfume!
Another great reason to use artificial flowers is if you are planning a destination wedding as you can take them with you or even have them posted. One less thing to organize when you get there.
Silk flowers used to have a reputation of looking fake with strange shades of pinks and blues. Now if you buy the best you would be hard pushed to notice the difference and they look great in photos.
As with all things you pay for what you get, if you buy your silk flowers too cheap it is likely that they will look it. Some silk flowers will be expensive but think of them as an investment. You can resell them after your wedding day or use them to decorate your home.
Shop around and have a look for flower shop sales and online bargains, take advantage of the fact that they last for years and you can buy them in advance. Don't forget to look for secondhand flowers that fit with your color scheme you will be please with the savings!
You can save money if you buy all of your flowers from the same supplier, bridesmaids flowers, corsages, button holes and centerpieces can all be made from silk flowers.
As an Amazon Associate I earn from qualifying purchases.
Other links on this site may lead to other companies that I'm associated with and this is how I can keep this site going and save you money on your wedding. 
Keep Up To Date With All The Latest Wedding Savings
top of page