Home > Photographer > Albums
Cheap Wedding Album Ideas
Find the cheap wedding ideas you are looking for:
When you book your wedding photographer you may find that their wedding albums cost more than you want to pay. Unless it is part of your contract which you have already signed you don't have to go with their albums.
Save yourself some money with these alternatives and remember that wedding photographers have to buy their albums from somewhere too, so you could end up getting almost exactly the same album at a fraction of the cost.
Scrapbooking
A cheap wedding album can be created using simple scrap booking techniques that will fit your theme and be very personal. A scrapbook is not just a glorified photo album but one that has mementos of your special day.

Until recently this craft craze has passed me by, I could never see the appeal until I came across the idea of mini scrapbook albums, these to me are perfect as they allow you to be creative but not in a big scary way if you haven't done this before.
You can buy scrap booking kits and albums that come complete with wedding embellishments, these are stickers to you and me! The albums come in various sizes so you can choose one that will fit your photos!
What I love about creating this very personal album is that you can add lots of extras; an invitation, confetti, the order of service, headlines from the day's newspaper, your room key, a copy of your marriage certificate and the album cover from your first dance! All the little things that made your day so special will be kept forever.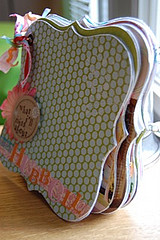 Photographs and pages that you may want to add are; getting ready, waiting for the bride, your entrance, the first kiss, the big group photo, the wedding party, the reception, speeches, the first dance, leaving for honeymoon. You have a separate page for each event and add little notes and extras as you want.
You could also create your own wedding album by tying the cards together with ribbon, the easiest way will be at the top corner and then you will be able to open the pages without damaging your album.
You don't have to be very artistic to create a wedding scrapbook, use the ready to go kits and you're away!
Where To Find Cheap Wedding Albums
If you don't fancy scrap booking then there are alternatives;
Photo books for a professional published look
Or regular photo albums 
Digital photo frame
Your wedding photos printed onto canvas
As an Amazon Associate I earn from qualifying purchases.
Other links on this site may lead to other companies that I'm associated with and this is how I can keep this site going and save you money on your wedding. 
Keep Up To Date With All The Latest Wedding Savings
top of page