Cheap Wedding

›
Favor
› Bubble
Cheap Wedding Bubble Ideas
Find the cheap wedding ideas you are looking for:
Excellent, a cheap wedding bubble!
Now I have a confession, it is not too terrible but it does involve bubble favors, I collect them!
Even my husband has been known to go to functions and collect them! As the parents of two young children they are great presents to take home.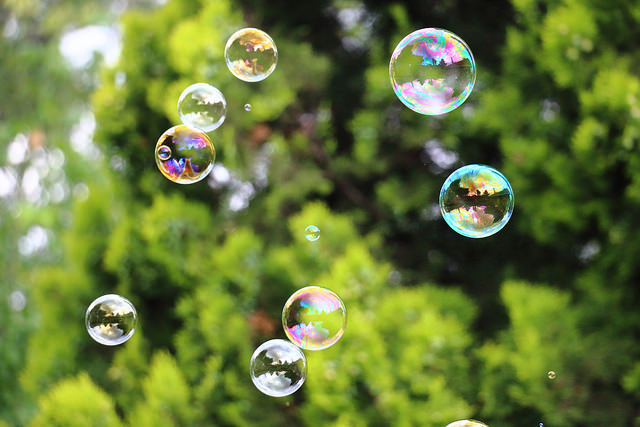 Bubbles At A Park Wedding
Shop Cheap Wedding Bubbles
I have only been to a couple of weddings where they have been used at the wedding.
If you look in favor shops online you can see a great range of designs from bells to champagne bottles. They look lovely but it could end up being an expense that is just left on the tables.
What is your plan for bubbles?
Did you want them as a type of confetti?
I have seen photographers use bubbles when taking shots of bridesmaids and it looks good, however you would need a lot of those little favor bubbles for that effect!
It might be worth looking in toyshops for a bubble machine, they are relatively inexpensive and create huge amounts of bubbles. You could have bubbles floating around during the photographs which would be great fun and keep the children amused.
Children love bubbles, you could buy individual bubble bottles for each child from discount stores and cover each bottle yourself so that it matches your colors.
If you are still wanting the little bubble bottles, shop around, especially online. Compare prices and look out for the sales, you should be able to grab a bargain. And then look out for all the mums and dads!

Bubbles photo by Clint Mason
As an Amazon Associate I earn from qualifying purchases.
Other links on this site may lead to other companies that I'm associated with and this is how I can keep this site going and save you money on your wedding. 
Keep Up To Date With All The Latest Wedding Savings
top of page