Cheap Wedding

›
Favor
› Candle
Cheap Wedding Candle Favors
Find the cheap wedding ideas you are looking for:
There is no need to spend a fortune when it comes to cheap wedding candle favors, simple uncluttered designs work great.
If you want the candles to be lit on the day check that the venue allows it. Some have strict health and safety procedures and you don't want to spend money and then not be able to use them. Or worse have them on the table with a massive health and safety notice!
Shop Cheap Wedding Candle Favors
The easiest way to make the favor is to find cheap glass votive holders, also called tea light holders and personalize them yourself. This could be done with color ribbon tied round the glass or if you are artistic use the glass pens. With the pens you can write a message or draw a cartoon wedding character. Remember to keep it simple as you will be copying the design a lot of times! If you write your guests' names on the glass they can also then be used as place settings. Dual use has to be a saving!
You can also find some very pretty glass votives in dollar and thrift stores. The red heart candle favor here is one of a three candle set from our local dollar store. Definately worth having a look around!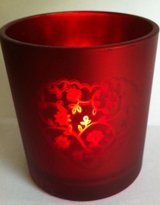 If you want the cheap wedding candle favors to be the same then look at using stickers or labels for each candle, these you can stick on the glass. You could have a romantic phrase or poem, your initials and the date, use your imagination.
To have a designer look have a coloured edge to the sticker and use a simple typeface, the more elaborate you try to be it could end up looking tacky.
If you want your guests to take the wedding candle favors away you could use little favor bags to put a floating candle in, shop around for the floating candles and definately look in discount shops. Use labels on the bags to personalize.
Novelty shaped candles are great for themed weddings; keep an eye out for shell candles or flip flops for a beach wedding, leaf shapes for autumn, flowers for summer or spring and maybe snowflakes for winter.
Online or specialist candle shops sometimes have discounts for volume purchases and if you buy out of season ie snowflakes in summer they almost give them away. That would be nearly free cheap wedding candle favors and a definate saving on the wedding budget.

As an Amazon Associate I earn from qualifying purchases.
Other links on this site may lead to other companies that I'm associated with and this is how I can keep this site going and save you money on your wedding. 
Keep Up To Date With All The Latest Wedding Savings
top of page