Cheap Wedding

›
Reception
› Chair Covers
A Cheap Wedding Chair Cover

For Your Wedding Reception
Find the cheap wedding ideas you are looking for:
Having a cheap wedding chair cover will not be the reason for you having the wedding of your dreams.
Chair covers to me are really not a necessity to planning a wedding, to me it sums up why weddings are now hugely expensive, you feel it should be done so you spend the money. It reminds me of a wedding that I co-ordinated where the bride and bride's mother insisted on hiring different crockery as they didn't like the design of the plates that the venue provided. (They had small flowers on the edge) This doubled the cost of the wedding breakfast which seems so silly.
Shop Cheap Wedding Chair Covers
Of course some places do have horrible chairs! So, if you want to cover them up here are some cheap chair covers.
Reception Without Chaircovers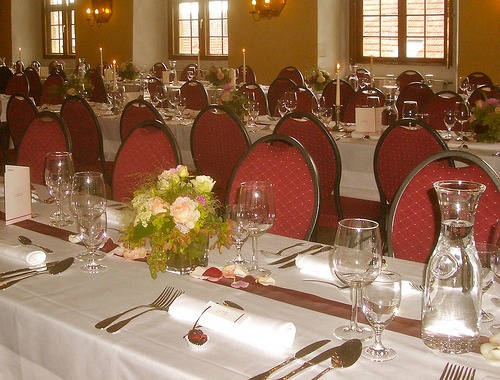 Photo by barockschloss
The cheapest cover to any chair is a person sitting on it!
Think about that for a minute, very few people are going to be seeing the room without anyone in the room blocking the view of the chairs.
If you are worried as you have a mixture of chair styles then look at where the chairs are going. Try and have a table with all the same chairs, no one will notice if their table's chairs are different from the table next door. If you have odd chairs left over then save those for the table at the back or side or a table that is out of the way.
If you are hiring your chairs then any good hire company should provide you with alternative seat cushion colours at no extra cost.
If you are looking for a cheap wedding chair cover for the chairs at the ceremony then think of other ways of co-ordinating the chairs; ribbons and flowers add to the overall look. The chairs in the photo below are decorated with a simple sash and they look stunning.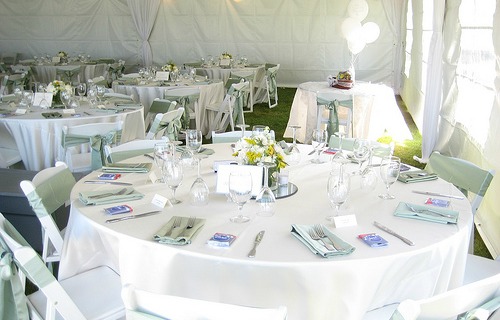 Photo by Jose and Roxanne
Again think of grouping the chairs together, put your best looking chairs at the back and front, and if needed at the edge of the aisle. The chairs in the middle of the rows will not really be seen, especially when you have people sitting on them.
If you still think that you need a cheap wedding chair cover, shop around, talk to hire companies if you need a big quantity.
Cheap wedding chair covers - Make or Buy?

If it's just a couple of chairs for the bride and groom, you could look for antique style chairs or thrones to add a touch of glamour!

As an Amazon Associate I earn from qualifying purchases.
Other links on this site may lead to other companies that I'm associated with and this is how I can keep this site going and save you money on your wedding. 
Keep Up To Date With All The Latest Wedding Savings
top of page