Cheap Wedding

›
Make Your Own Decorations
› Decor Planning
A Cheap Wedding Decor

How To Plan And Not Overspend
Find the cheap wedding ideas you are looking for:
If you are planning to create your cheap wedding decor then you need to get organised so that everything is coordinated. There is no point buying random objects that you love the look of and think you can add into your theme. If you do this you could end up spending lots more than you need to and also could end up with lots of bits.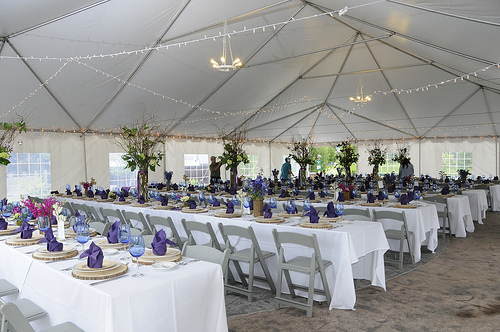 Photo by The Wild Center
First write yourself a checklist, this is always best done with the people that are going to help you decorate your venue, two heads are better than one come to mind! And if you are anything like me it helps you to stay focused ;o)
Decide on your theme or your colour scheme and think about the venue. If it the venue has great gardens or is set in a Victorian mansion, castle etc you will just need your cheap wedding decor to add to the feel of the venue, if however you are hiring a hall then you will need more decor.
On your checklist you will want everything you will need and it helps to break down each area.
Entrance - Topiary trees, balloons, tulle, flowers?
Table Centerpieces - Doesn't just have to be flowers, could be all the favor boxes piled up in the middle.
Top Table - do you want any decor on the front of the table as well?
Guest's Tables - is your colour scheme on the napkins and tablecloths?
Chairs - are you decorating the backs of the chairs?
Walls - lanterns, tulle, balloons, ivy, beaded curtains, pictures
Any distinguing room features? Pillars, balconies, windows?
Do you want additional lighting? Candles, lanterns, fairy lights?
When you have your complete list, you can now go shopping - stick to your theme and you shouldn't overspend on your budget.
If you are buying tulle and ribbons it is worth buying extra metres as you don't want to run out on the decoration day.
Remember to schedule in time for decorating the venue!

As an Amazon Associate I earn from qualifying purchases.
Other links on this site may lead to other companies that I'm associated with and this is how I can keep this site going and save you money on your wedding. 
Keep Up To Date With All The Latest Wedding Savings
top of page