Cheap Wedding Hotels
Find the cheap wedding ideas you are looking for:
Choosing to have your wedding in a hotel makes perfect sense as you have everything you need in one place and you don't risk losing some of your guests on the way from one venue to another. Plus, they are good for budget weddings as they often offer discounts.
We chose our hotel reception because it was pretty, felt right, our numbers were small (32 people), and it was a small hotel with just 15 bedrooms , plus we were able to have exclusive use of the main rooms.
Hotel Discounts
 ~ Most hotels will offer discounts on weddings held during the week (Sunday to Thursday) or during quiet times. It is definitely worth asking the staff when this is for them as all hotels do differ, they may have a really busy January but a quiet March.
 ~ If you have a large number of your guests needing accommodation the hotel should offer a discounted rate for a certain number of rooms.
 ~ It is rare that a hotel will charge you room hire for your wedding reception, after all you are paying for everyone's meal and quite possibly a couple of drinks too.
Cheap Wedding Hotel Packages
In the UK a number of hotel chains have a really cheap set price for their weddings, just be careful on the extras that they will charge for some really weird items. One hotel package wanted to charge £45 just to swag the top table – crazy, especially when you look at the total cost of their wedding package!
Britannia Hotels ~ £999 for your wedding reception for 50 guests
Some of the Hilton Hotels ~ £999 for your wedding reception for 30 guests
These are great prices and it's almost worth looking at having a destination wedding in the UK to save you money.
Fully Serviced Weddings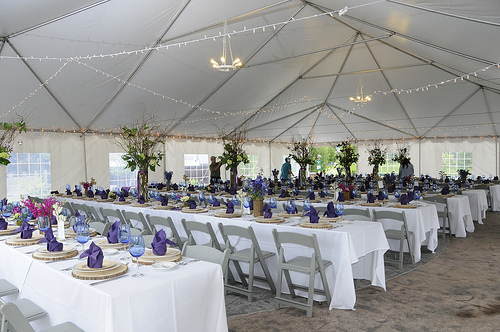 In the US, hotel chains are not big on advertising a wedding package for a set number of people, however some do and this would be a full serviced wedding where everything is included.
Every hotel even within a big hotel chain will price their items individually which does make it harder to compare the cost of one hotel with another, the easiest way is to ask for a quote for 40 people as a starting figure.
One massive thing to be aware of is if your hotel venue is not full service then that means you will be paying and organizing all of the extras yourself.
This could be caterers, linens, tables and chairs, florists – basically everything. Now this would be fine if it meant you could shop around and get the best deals but quite often the hotel will have required vendors. This would mean that you have to go with their list of suppliers, which could be fine but could also be really expensive.
Before you book a hotel that does not offer full service check their preferred suppliers and their costs.
Also, have a look on Trip Advisor for their full list of wedding resorts a number of the hotels are offering discounts when you book through them.
Currently Marriott are offering 20% off, Hilton are offering double points and other hotels are offering up to 35% off.
Also, don't forget Groupon as every so often there will be whole weddings up for sale quite often at half the normal price.
As an Amazon Associate I earn from qualifying purchases.
Other links on this site may lead to other companies that I'm associated with and this is how I can keep this site going and save you money on your wedding. 
Keep Up To Date With All The Latest Wedding Savings
top of page