Cheap Wedding

›
Reception
› Alternative
Alternative Cheap Wedding
Reception Venues

Find The Secret Venues In Your Area
Find the cheap wedding ideas you are looking for:
By finding the secret cheap wedding reception venues in your area you could save yourself a fortune. Think about where you live, are there any beautiful buildings, great member only clubs, community halls, pubs, restaurants, bars or even your own garden? Make a list and enquire at all that appeal to you.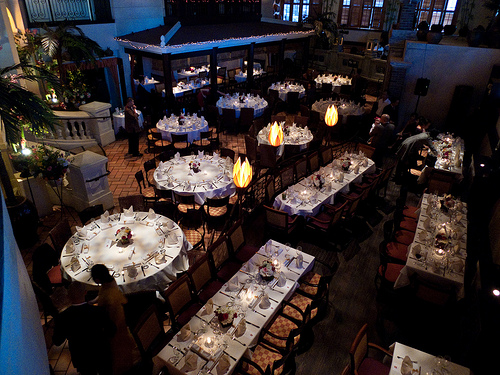 A restaurant that is closed at lunchtime and the afternoon could fit in a cheap wedding reception as long as you were out by a certain time. This would mean an early wedding and finding a different venue for the evening.
Pubs and bars quite often have function rooms that could be used and are normally cheaper than the same at a hotel.
Beautiful buildings or tourist attractions could be able to fit a wedding reception. Last summer I was at a Zoo and watched a wedding reception there, a great place for the children in your wedding party as well!
The cheapest venues are going to be the ones that don't see themselves as a wedding venue and have another main purpose. And if they are normally closed at that time then they will be really happy for the extra revenue that your wedding booking will bring to their business.
As with everything it is who you know and not what you know, so if you know someone that works at the museum or is a teacher at the local school then ask them who the best person to talk to is!

As an Amazon Associate I earn from qualifying purchases.
Other links on this site may lead to other companies that I'm associated with and this is how I can keep this site going and save you money on your wedding. 
Keep Up To Date With All The Latest Wedding Savings
top of page