Home > Accessories > Shoes
Stylish & Cheap Wedding Shoes
Find the cheap wedding ideas you are looking for:
When choosing your cheap wedding shoes make sure they are comfortable! Your bridal shoes will be worn all day and probably danced in.
Although I have seen a number of bare footed brides dancing in the early hours, which is why a flat spare pair of bridal shoes is a good idea too! Or invest in a lot of cheap flip flops for everyone to use - they will love you for that.

Beg, borrow or buy cheaply has got to be the order of the day.
Beg or borrow from friends (but only those with the same size feet), these can be the best type of shoe as they are free and only been worn once.
Again, as with buying a cheap wedding dress, look for sales and grab yourself a bargain, go to 'normal' shoe shops (rather than wedding shops) and then at least you have the chance of wearing them again. Don't just think ivory wedding shoes as more and more brides are wearing amazing colored shoes that they have fallen in love with. Your shoes could even be your 'something blue'.
You can easily make a plain pair of ivory wedding shoes more glamorous by adding a little bit of your own sparkle. You can buy crystals from most craft stores and with a hot glue gun create your own design. Make sure that the fabric of your wedding shoes is suitable for the type of glue that you want to use. Also look out for shoeclips which you could add to your shoes for your wedding day and then take off after, this would be great if you are borrowing your shoes as then there is no damage.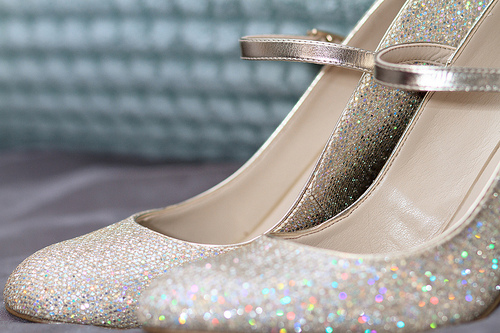 If you are unable to find the exact color of wedding shoe that you want then you can buy wedding shoe dye, you need to be very careful with this as you don't want it leaking on to the soles of the shoes. Sadly it is not easy to find more unusual home shoe dye colors, so you may be better off having them dyed at a shoe repair shop. The best results will be with shoes that you can dye darker, trying to dye shoes to a lighter shade won't get you good results!
Modge Podge Wedding Shoes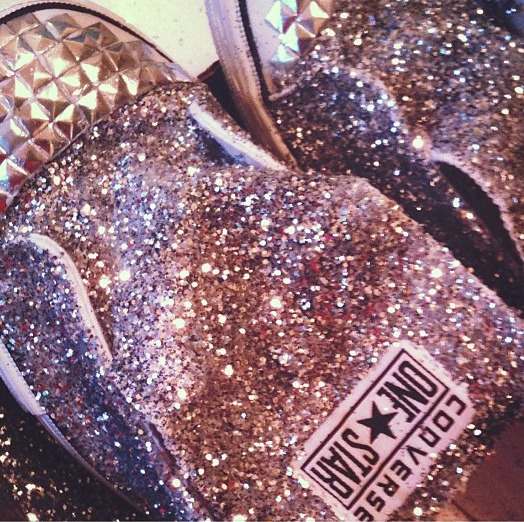 Photo by Maegan Tintari
A really popular cheap wedding shoe style at the moment are shoes that have been made more gorgeous with glitter, favorite Disney characters, rhinestones, buttons or anything else that takes your fancy. Use paper wrap or scrap-booking sheets to add characters and designs to your shoes.
The best bit is the shoes themselves can be fairly cheap or even a pair that you already own and they will be completely unique. You can use any type of shoe you like from high heels to converse.
You will need;
Modge Podge, which is a type of glue
painter's tape
sandpaper
paint brush or craft foam brush
a pair of shoes
and then whatever you want to decorate your shoes with. Make sure whatever it is, is fairly lightweight otherwise they may fall off on the day - Glitter, papers, sequins, rhinestones, buttons.
old newspaper
How to create your own sparkly wedding shoes
Start by laying out the newspaper as this can get a bit messy.
Use the sandpaper to make the surface of your shoes slightly scuffed. If they are canvas you can miss this bit.
Use the painter's tape around the edge of the shoes to stop glue going inside and underneath. 
Next, mix up the modge podge with the glitter - 1/4 cup of modge podge to 2 tablespoons of glitter works well. 
Paint the mixture on to your shoes - 3 to 4 layers works well. It is best to let the layers dry before you add another layer. 
Let the shoes dry completely and then cover the shoes with a couple of layers of acrylic sealer.
If you want to cover your shoes with a paper collage use the modge podge to cover your shoes and then add the paper. When the shoes are dry cover with a couple of layers of acrylic sealer.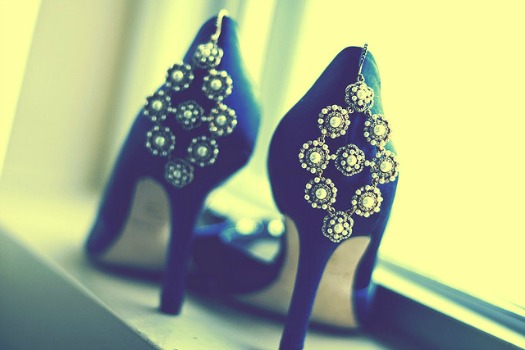 Photo by Lauren Nelson
Don't fancy creating your own? Here are some classic fairly cheap wedding shoes, some look more comfortable than others!

Cheap Ivory Wedding Shoes
Ivory wedding shoes are one of the most popular colors, but they are also one of the hardest to find. Ivory is such an exact color, it is not white or beige, the good thing is you will know when you have found the right shoe!

Of course your shoes need to be comfortable, however a number of brides will also have an emergency pair of flip flops or ballet shoes that they can change in to if they are dancing the night away.
If you have the chance, a good time to shop for cheap wedding shoes is at the end of the wedding season and also at the end of the prom season. Be open to lots of shoe designs as the perfect shoe for you may not be a wedding shoe.
You will find that the cheaper wedding shoes will be quite plain and have very little extra bling, if that is what you are looking for then keep an eye out in prom shops and more glitzy shoe stores. It may take some searching but you will find the shoe you want.
There are lots of shoe stores that are online if you don't fancy searching through hundreds of boxes and store after store.
One great online shoe store is Payless they have loads of shoes to have a look at. If you do end up ordering your shoes online and you do want to return them then you will need to take them to one of their many stores, they do not accept returns by mail.
And that goes with all orders that you place online, make sure you are happy with the returns policy before you purchase.
As an Amazon Associate I earn from qualifying purchases.
Other links on this site may lead to other companies that I'm associated with and this is how I can keep this site going and save you money on your wedding. 
Keep Up To Date With All The Latest Wedding Savings
top of page