Cheap Wedding

›
Favor
› Wholesale
Cheap Wholesale Wedding Favors

Find the cheap wedding ideas you are looking for:
Buying cheap wholesale wedding favors is a good idea to save money and with a few extras they will be perfect for your wedding.
When you first think about buying wholesale you think about mass produced items with very little that is personal about them. But when you think that all of these favor companies that charge a fortune for a few items will be buying their wedding favors wholesale then you realise that you are onto a good thing.
Shop Cheap Wholesale Wedding Favors
Your theme to your wedding is the key to buying the right wedding favour, match your theme to the wedding favour and think outside the box. You do not need to buy your wholesale favors because they say wedding on them in fact they will probably cost a lot less if they are not normally associated with weddings.
If you having a beach wedding you could look for wholesale shells, shell soaps, flip-flops, beach towels, sun-tan cream.
If you are having a countryside wedding then look for wholesale plants, garden stuff, pots, seeds.
A wedding in the fall and you could look at wholesale leaf soaps, candles, pumpkins, and candy in fall colors.
Nearly anything can be bought in bulk, some general ideas for wedding favors would be to look for candy, bubbles,wholesale soap, chocolates, and candles.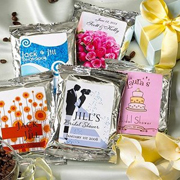 Some wholesalers will only trade with you if you set up a trading account, which is not always practical just for one wedding unless you have lots of friends and family getting married soon or you love their products! Koyal Wholesale is one company where you can buy small quantities at wholesale prices, have a look at their favor supplies as there are lots that will fit with nearly every wedding theme you can think of. The photo is a sample of their personalized wedding favors.
As an Amazon Associate I earn from qualifying purchases.
Other links on this site may lead to other companies that I'm associated with and this is how I can keep this site going and save you money on your wedding. 
Keep Up To Date With All The Latest Wedding Savings
top of page