Inexpensive Christmas Wedding Cakes
Find the cheap wedding ideas you are looking for:
Christmas wedding cakes are special and magical, but do you know the best bit of having your wedding cake at this time of year? It will cost you a lot less!

Sounds mad doesn't it? But there is a very easy reason why your wedding cake will cost you a lot less at Christmas, they look and are, just like the traditional Christmas cake. The fruit cake, the marzipan and the icing are all the same whether you have a wedding cake made with them or whether you have a Christmas cake made with them.

Your Dream Christmas Wedding Cake
So how do you get your Christmas cake to look like the wedding cake you always wanted?

Most people will either make their own Christmas cakes or buy them from the grocery store, so that is exactly what you are going to do for your wedding cake.
If a member of your family always makes the Christmas cake then ask them to make your wedding cake, you may want different sizes for the tiers but that is the only difference. You could ask if they would do this as a wedding gift to you.
Don't just think round cakes as you could have any shape you wanted. Christmas wedding cakes that have been decorated as a stack of Christmas gifts is fun.
Again the same would be if you always buy your Christmas cake you would buy the same cake but for your wedding instead.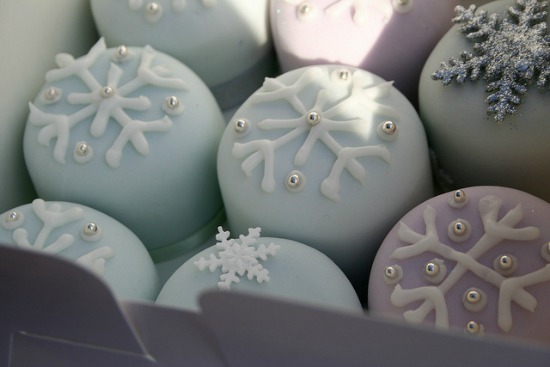 Photo by Victoria Watkin-Jones
Wedding cupcakes would also work really well as your Christmas wedding cake, and you could have so much fun decorating them!
The cakes will be quite plain at the moment so you will want to decorate them and turn them into Christmas wedding cakes. Another great thing about doing this over the Christmas period is that there are loads of cake decorations that you could use.
You could decorate your cake with a very traditional Christmas scene - you could have Santa landing on the top of your cake with all of his reindeer or you could have a very Christmassy bride and groom on the top. Just think that every Christmas you will be able to use your cake topper rather than waiting for a big anniversary like most people!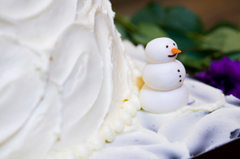 You could also use holly to top your wedding cake and have a dusting of icing sugar for snow, you can also pick up lots of plastic and silk Christmas flowers that you could use and again they would last for ages.
Ribbons in your wedding colors would also add a touch of Christmas color to your wedding cake and they are easy to attach. Color combinations that you may want to think about are; silver and white, red and white, red and gold, red and green, and gold and white.
As an Amazon Associate I earn from qualifying purchases.
Other links on this site may lead to other companies that I'm associated with and this is how I can keep this site going and save you money on your wedding. 
Keep Up To Date With All The Latest Wedding Savings
top of page