Cheap Wedding › Dress › Destination
Destination Wedding Gown

Where To Find An Inexpensive Wedding Dress
Find the cheap wedding ideas you are looking for:
The great thing about choosing a destination wedding gown is that you normally are guaranteed with the weather, so you can really choose your favorite wedding dress, as long as the price is right!
As with every wedding the dress that you choose to wear is completely up to you. I have seen brides carrying really big bags with their very formal wedding gown at airports all ready to jet off to their beach wedding. But there are also brides getting married in a little summer dress - it is really up to you.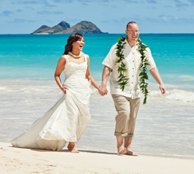 The best thing to think about when choosing your wedding dress is how you will feel wearing it when you get to your gorgeous location. You don't want something that you are going to feel too hot in as you want to enjoy your day as much as everyone else, plus looking hot and sweaty is not a great look for your wedding photos! This is why the most popular destination wedding gowns are informal.
Here are some stunning,gorgeous and inexpensive destination wedding gowns.
How To Send Your Destination Wedding Dress
You do not want to be stressing about your destination wedding gown while you are trying to remember everything you need to take for your wedding. You could end up arriving at your perfect place completely hassled.
For that reason I think it's best to send your wedding dress in advance. Sounds a bit scarey but if you follow these tips you should be fine.
Firstly find the courier that you want to use, talk with the guys that work there as to what they feel is the best way to send your destination wedding gown and the time to send it. It is best to have complete insurance and also if they have a tracking service for your peace of mind.
Next talk to the hotel that you are staying at to find someone that can receive your dress. This way you will be able to talk to them direct to make sure it is there and they will be able to unpack it and hang it up to reduce the creases. If they have a wedding planner then they are perfect for the job as they will know how important this is to you.
Now you need to pack your destination wedding gown into a dress box with lots of tissue paper to reduce the creases. Then wrap the box in lots of packaging, bubble wrap or another box is good and place the whole thing into a plastic bag - it will probably need to be a bin bag (garbage bag) or similiar. This will stop any moisture or liquids getting to your dress.
When you have your parcel make sure you address it correctly and send it so that it arrives at least a week before.
If you don't want to send your destination wedding gown you will need to take it on the plane with you. Small planes will not have the facility to store it in the hold so it is essential that you speak with the airline to see if this is the case for your flight.
If the dress can go in a closet in the aircraft this is perfect and you will need a dress carrier for this. If it is likely that you will have to put it in the overhead locker you will want to pack the dress in a dress box with lots of tissue paper.
Worse case scenario will be to put the dress in the hold, if this happens to you pack your dress in the dress box, again with lots of tissue paper, put it into a hard suitcase and surround it with lots of your clothes for padding and to stop it rattling about.
When you arrive make sure you hang up your dress, after checking for any creases. You can get rid of creases with a steamer or by stuffing the arms with tissue paper. Ask at the wedding dress shop for tips as well. If you can get a small steamer to take with you then this is perfect.
Don't forget the groom's clothes and all the extras as well!
As an Amazon Associate I earn from qualifying purchases.
Other links on this site may lead to other companies that I'm associated with and this is how I can keep this site going and save you money on your wedding. 
Keep Up To Date With All The Latest Wedding Savings
top of page