Cheap Wedding

›
Reception
› DIY
Cheap Do It Yourself Wedding Reception Tips
Find the cheap wedding ideas you are looking for:
Choosing a do it yourself wedding reception is one of the maim ways to save money and have a cheap wedding without losing the bits that you really want. The average wedding reception takes up half of your wedding budget and that is a lot of money, the good thing is you don't have to do everything diy as even choosing just a couple of things to make yourself will save you money. The best bet is to choose the things that you and your friends are good at!
DIY Reception
Photo by Moon Angel
Don't plan on doing everything yourself, get as much help as you can manage. Too many people and you end up stepping on each-others toes and losing what you really want, but too few and you can end up running around like a headless chicken on the day.
Do not leave anything to do on your wedding day, unless your wedding is very late in the day, as you want to enjoy the day. That means any wedding decorations that you want putting up need to be done the night before, the same with centerpieces and table set ups. If you are unable to get into your reception venue until the day have everything ready to go in first thing and check with the venue that they will be ready for you.
Wedding Food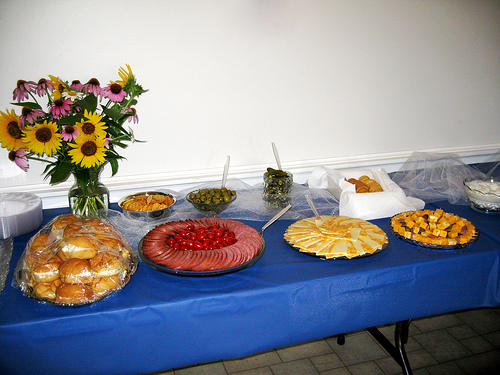 Photo by Richard Life
Do it yourself wedding food is a big saving, but this is probably more people than you have ever catered for in your life so you need to be organized. Write your wedding menus in advance and plan how you are going to prepare the food. If you are going for a 3 course meal then a cold starter and dessert are the easiest options with a buffet for your main course. You will need to get extra help in that are not your guests for plating up, clearing the food and getting everything onto the buffet table. There is no way you can put the food onto the buffet table before you get married as it won't be kept at the right temperature.
There are easier options for your diy wedding food and they could be a wedding barbecue wedding picnic and the good old pot luck wedding buffet. A pot luck wedding buffet is when your guests each bring a dish and you end up with lots of great food, you could theme the wedding menu so you don't end up with lots of random dishes. This could be as simple as a soup wedding breakfast, an Italian feast, or an afternoon tea with lots of yummy cakes.
Talking of cakes brings us neatly onto your wedding cake, which if you are making yourself you will need to make the week before and then refrigerate, you can then decorate the cake the day before. You can freeze fruit cake for up to 3 months if you have wrapped it and put it in an air tight container. You can also use your wedding cake as the dessert for your wedding which will also save money.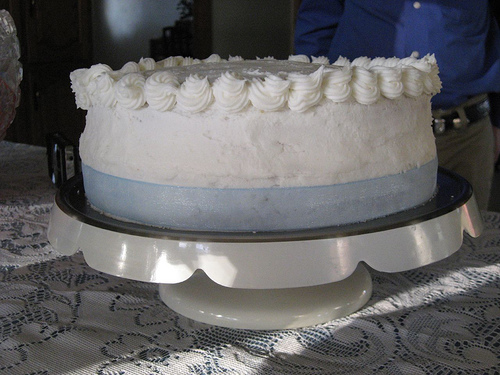 Photo by KimberleyKV
Contingency Plans
Photo by Quinn Anya
As with all of the best made plans your do it yourself wedding reception may have a few emergencies to deal with, if you plan now how you will deal with them and have a back-up plan then this will minimize your stress levels on the day.
Starting with the weather, if it might rain then will your guests and you be able to keep dry?
Do you need to think of having a wedding tent or umbrellas at the ready?
Is there a chance that it will be extremely hot? Then do you have shade for your guests and lots of cold drinks?
Is it going to be very cold? Is your venue going to be warm enough - this is more important if you have a wedding tent as you will need to have extra heaters, not everyone will be able to warm up on the dancefloor!
Other areas to keep an eye on are if you are having the wedding food or flowers delivered make sure there is enough time to get them redelivered if everything is not right. If this means having everything delivered the day before or early on the day then make sure you have areas to store everything!
If you have extra help and services coming on the day make sure you have confirmed everything with them the week before and checked that they are all ok for the day. You don't want any nasty surprises for your do it yourself wedding!
And then to make sure you get to enjoy everything on the day have someone have all of your notes and your wedding plans and give them the responsibility to make sure they all happen. Choose that person wisely.
As an Amazon Associate I earn from qualifying purchases.
Other links on this site may lead to other companies that I'm associated with and this is how I can keep this site going and save you money on your wedding. 
Keep Up To Date With All The Latest Wedding Savings
top of page