Cheap Wedding

›
Invitation
› Fairy Tale
Fairy Tale Wedding Invitations

Make Or Buy?
Find the cheap wedding ideas you are looking for:
A fairy tale wedding invitation that you can make yourself, all you will need is a clipart image that you like, it could be of a castle, a princess, a glass slipper, a knight, a fantasy coach or any other image that you want to add. You will need some graphics software which is available for free from Serif or you can get a free trial of Photoshop.
Shop Fairy Tale Wedding Invitations
Make Your Own Fairy Tale Invitation

The castle graphic on this invitation was free from About.com Open a new file in your graphics program and copy and paste the image into the new canvas. With this image I have removed the black background using a layer mask, you will find this in the options bar under layer. Alternatively you could select the part of the image that you like using the magic wand and paste it into a new file.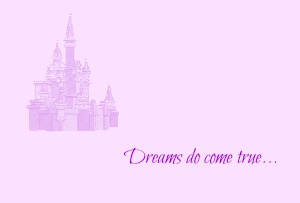 Before you set the printer to print the hundreds of invites you need check everything is lined up right by just printing one, when you are happy, set the printer to go! Or you could have a printer, print your design for you, this can work out cheaper than you think and they have all the correct equipment so you won't be paying for any mistakes!
The beauty of designing your own fairy tale wedding invitation is that you can use the same design on your order of service, thank you cards and menu cards.
If you are not into making your own invitations there are a number of fairy tale themed invitations that would be perfect, at Basic Invite. As well as gorgeous invitation designs and the biggest color choice I have ever seen, quite a few of their invites are less than $1!
As an Amazon Associate I earn from qualifying purchases.
Other links on this site may lead to other companies that I'm associated with and this is how I can keep this site going and save you money on your wedding. 
Keep Up To Date With All The Latest Wedding Savings
top of page