Cheap Florida Wedding Venues
Find the cheap wedding ideas you are looking for: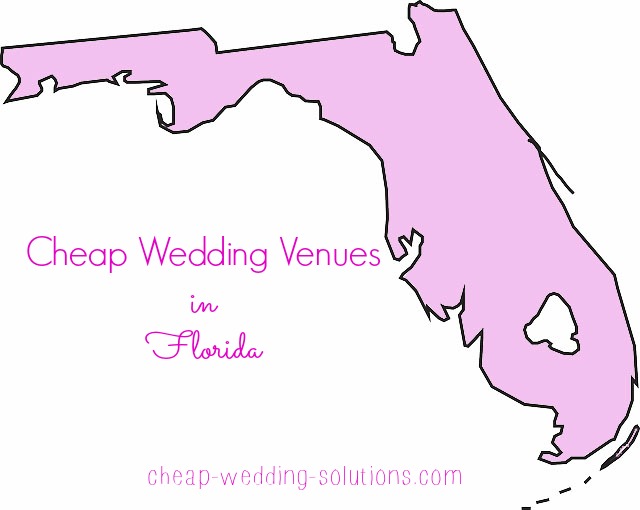 Florida is the sunshine state, a gorgeous place to be, a popular destination and full of great affordable wedding venues.
Due to the great weather you have so many options to choose from - beaches, parks, museums or maybe your own backyard?
Affordable State Parks Wedding Venues
Say your vows overlooking the bay without spending a fortune by hiring the Micco pavilion and the parks grounds for a great price.
Daytime rental for up to 50 people is $214 plus $2 per person over the age of 6, you also need to pay a deposit of $250 and $30/hour per off duty ranger that is needed. Sadly no alcohol, balloons or pinatas. You can also hire it for the evening too.
I have checked out the other State Parks wedding facilities and it is possible to get married and have your wedding in most of them. There does seem to be more wedding companies providing the services for the parks and you do need to go through them to find out more information and prices. 

The Farmers Market is an historic building with lots of cool features. Rental for 10pm to midnight Mon to Saturday is $1300 and will seat up to 140 guests.
If you are having a smaller wedding then the Azalea Lane Recreation Center can hold up to 70 people seated, rental is $70 per hour and there is use of a shared kitchen. This is also a great venue is you have invited children as there is a newly refurbished play park.
It's almost as if this park wants to be kept a secret, there is very little information out there about it.
However what I have found out is that it is very affordable, it's on the St John's river which makes it look great for weddings and they allow you to bring your own food and alcohol. That alone will save you loads of money. You could have a great picnic wedding reception.
Affordable Rustic Wedding Venues in Florida
There are also a number of ranches and farms that are available to use for your wedding and they are quite often a great price.
Here are some that I have found;
If you are looking for rustic then the Sunrise Jubilee Farm would be the perfect venue for you and it looks so pretty in the wedding photos. You can have both your ceremony and reception here, and they will even let you cater for your own wedding. That alone is a rarity!
Prices are great too; 30 guests is $1500.00, 60 guests it is $2000.00, Up to 100 guests $2500.00, up to 150 guests $3000.00, up to 200 guests is $3500.00.
If you are into your horses you have found the place for you. Great location for both your ceremony and reception. You can hire their function hall for your reception which comes with an un-stocked bar and a kitchen.
Affordable Florida Wedding Venues
Camp Blanding is a military camp that does allow public events and weddings to take place. Prices are very reasonable, I know one bride who only paid $600 to hire the venue and $200 refundable deposit. Contact the Recreation Department Events Coordinator at 904-682-2011 for more information and their availability. 
You are able to hire the conference center with its decking overlooking the lake and also Cooper Hall which was built in 1941.
You can even camp there which would definitely provide you and your guests with cheap accommodation.
This is a really pretty venue and one where you could have your ceremony outside.
You can have your ceremony and/or your reception here, prices are great.
To give you an idea of cost, for under 50 guests for both would cost you $1800, plus $150 for tables and chairs. You can take your own caterer but they must be state licensed. All of the details are included on their site.
Cheap Palm Beach Garden Venues
I have had requests for finding a cheap wedding venue in Palm Beach Garden, so to here are what I have found so far...
Cheapest Disney Florida Wedding Venue
The cheapest way to have an official Disney wedding is on a cruise but you would have to pay for your cruise as well, so that probably won't work out that cheap!
The cheapest package is Memories which is for up to 4 people just for the ceremony ... prices start from $2495, gulp!
However if you are having a small and intimate wedding this could be just the thing. Plus you could follow your wedding ceremony with a cake and Champagne celebration at one of the many resorts. Many do offer this as a package.
I have heard a number of couples talking about just turning up at a Disney park with an officiant and saying their vows. You may be able to get away with this if the Disney staff don't realize what is going on, but why take the risk? And I have heard that the staff are trained to look out for this.
Florida Wedding Licence
If you want to get married in Florida but are from overseas or out of state you can get your wedding licence on the same day you arrive in Florida from any courthouse.
Your licence will cost you between $93 - $98.
Make sure you check whether any prices quoted to you include the Florida State tax which is currently 6%
As an Amazon Associate I earn from qualifying purchases.
Other links on this site may lead to other companies that I'm associated with and this is how I can keep this site going and save you money on your wedding. 
Keep Up To Date With All The Latest Wedding Savings
top of page