Cheap Wedding

›
Make Your Own Decorations
› Halloween
Cheap Halloween Wedding Decorations

And Centerpiece Ideas
Find the cheap wedding ideas you are looking for:
Cheap halloween wedding decorations don't have to look cheap they can look stylish, classy and fun. The key is to be subtle and pick a Halloween theme that works for you.
Whenever anyone thinks of halloween they think of Jack O'Lanterns, you could stick with the familiar face cut out or you could have your initials carved into the pumpkin. Make sure you keep the pumpkins whole until at least a week before your wedding otherwise they start to go mouldy - not a good look! If you soak your pumpkin in a diluted bleach solution it will keep a bit longer.
You don't have to carve your pumpkins instead keep them whole and have one large pumpkin per table surrounded by candles and confetti.
As well as pumpkins think about mini gourds and use a few on each table as your centerpiece. You could display them on a platter with candles.
A halloween tree as a centerpiece would work really well, use the instructions from winter wedding centerpiece ideas and then hang halloween decorations from the branches, it could be mini lanterns, gourds or even cobwebs and spiders!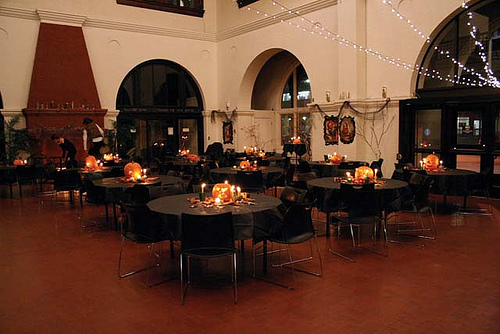 Photo by Zac Bentz
If you are going more for the rocky horror look at your wedding then you could use glass jars filled with colored water - food coloring will do and then add lots of scarey plastic insects.
If you are having a children's table at your reception then you can really go to town on the decorations - they would expect it! Use halloween themed plated and cups and then have plastic jack o'lanterns that light up and halloween bowls filled with trick or treats! Yum!
As an Amazon Associate I earn from qualifying purchases.
Other links on this site may lead to other companies that I'm associated with and this is how I can keep this site going and save you money on your wedding. 
Keep Up To Date With All The Latest Wedding Savings
top of page