How To Create Maps For Your
Wedding Invitations
Find the cheap wedding ideas you are looking for:
There is nothing worse than a great wedding, planned to perfection without any guests, one way to avoid this it to provide your guests with a map. It is either that or watch them use the latest app to get them to the church on time!

We were recently invited to a wedding where we bumped into most of the guests searching the high street trying to find the beautiful church for the ceremony. Wearing high heels didn't help but luckily we spotted the church with minutes to spare.
You don't want to be losing your guests and not everyone has a sat nav in their car, the best way to avoid this is to have a map either printed on the back of the invite or as a loose sheet.
Photocopied maps don't work too well as you end up with too much detail with lots of arrows and writing over the areas you want to see. Best to avoid those!
The best invention for maps for your invites has to be Google maps. All you need to do is put the important locations for your wedding as markers on the Google map by using the get directions tab, having postcodes does help but is not essential. You can choose the scale of the map. If your wedding party is small you could make personal maps with directions from their house or hotel to the wedding venue.
Google maps works well if you have two locations for your wedding, probably the ceremony and the reception. If you have three with maybe your evening reception in a seperate place then you may find it easier to print a map from Google with the area and then mark on the extra venue or design a seperate one.
A great way to print out lots of these maps is to email the final map to a printer and then they can print lots without losing the quality.
Hand Drawn Maps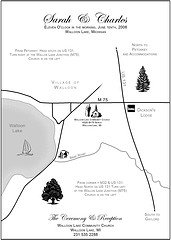 Another popular idea when you are thinking about how to create map wedding invitations is to have a hand drawn map, the sort that you could frame.
If you are artistic then this could be another way of adding your mark to your wedding.
The map doesn't have to be to scale but it does need to have the important road names in it.
If you did this yourself you could add personal and local landmarks on to the map, just don't make the map too busy as you may lose your guests! Have a look at the example to get some ideas for your wedding.
If you want to have a go at drawing your own map then start by creating a map on Google maps and printing it off. You can then trace over the roads that you want on your wedding map, that way it will be to scale and then you can have fun personalizing it.
If drawing is not your strong point you could have black and white photos of the outside of the ceremony location, your reception and fun places that you both love.
As an Amazon Associate I earn from qualifying purchases.
Other links on this site may lead to other companies that I'm associated with and this is how I can keep this site going and save you money on your wedding. 
Keep Up To Date With All The Latest Wedding Savings
top of page