Cheap Wedding › Dress › Wrap
How To Make A Wedding Wrap
Find the cheap wedding ideas you are looking for:
How to make a wedding wrap cheaply and with very little skill is possible. A few years ago I was invited to a friend's wedding, I had the perfect turquoise dress which I had worn the summer before but it was starting to get cooler, I wanted to find a wrap but was finding the color hard to match.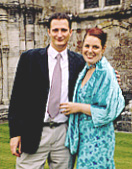 I ended up making my own and you can see it in the picture, I have worn it quite a few times since.
The secret behind my wrap is that it started life as a table runner, I found it in one of those bargain buckets near the till in a home store and it has lasted so well. All I needed to do was double it over and then sew the sides , you could don't even need to do that if you want yours longer!
The beauty of this is that you could easily afford lots of wraps for all of your bridesmaids as well as yourself and no one needs to know where you found them! There are more and more sales on at the moment in most of the home style stores and don't forget to look in the bargain bucket near the till.
Wraps are becoming more and more popular, they are great for keeping the chill off and also for hiding any wobbly arms. You could have a shrug which is the short style wrap, or one much longer. I have noticed a number of brides opting for a long floating wrap in organza, these vary in price depending on where you buy them. Instead of buying a wedding wrap you could buy meters of tulle and hem them yourself, the effect would be the same.
Sometimes you will find that it is cheaper to buy the wrap rather than make it yourself, here are the latest available on Ebay, the prices are great.
As an Amazon Associate I earn from qualifying purchases.
Other links on this site may lead to other companies that I'm associated with and this is how I can keep this site going and save you money on your wedding. 
Keep Up To Date With All The Latest Wedding Savings
top of page