Cheap Wedding

›
Menus
› How To Stock A Bar
How To Stock A Wedding Bar

Find the cheap wedding ideas you are looking for:
How to stock a wedding bar is difficult as you are never going to please everyone. I have stocked hundreds of wedding bars in my career so here is how to get it right!
You know your guests better than anyone, think about what they like to drink. Do the men like to drink beer, whisky, vodka, gin? The women; wine, alco-pops, gin, vodka and soft drinks?
You need to think about how long the bar will be open for and then how many of each of the major drinks can each person drink. On average could the men drink 4 beers? If yes then multiply 4 x the number of men and buy the cases needed. Do this with all of the main drinks; beer, wine and soft drinks.
Is there a particular spirit that your guests like to drink? If you want spirits at the wedding then you will need to buy a couple of bottles of the popular drinks. Remember this is your wedding, a lot of couples just have wine, beer and soft drinks and avoid spirits.
Shop around as to where you are going to buy your bar stocks, some suppliers will offer a sale or return policy, they will ask for the cases to be full and undamaged so that they can resell. Speak with your bar staff so that they know not to open cases without checking they have some left.
Top Tip For A Free Wedding Bar
A new way to stock your wedding bar is to have a stock the bar party, your invites could read:Bob and Lilly's wedding is not too far ...so let's get together and stock their bar!
This way you will get most of your drinks brought for you, perfect for a cheap wedding solution!
Don't forget glasses, ice, slices of lemon and lime if needed. Plus containers to put bottles in to chill.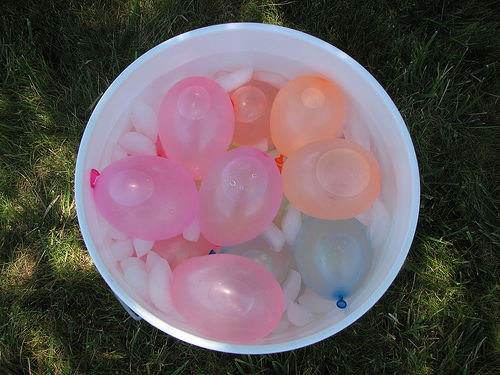 Photo by Twig

Love this idea where you fill balloons up with water and then freeze them. They can then be used to keep bottles chilled when you place the balloons in a container with water and the bottles. Plus it looks very pretty.


As an Amazon Associate I earn from qualifying purchases.
Other links on this site may lead to other companies that I'm associated with and this is how I can keep this site going and save you money on your wedding. 
Keep Up To Date With All The Latest Wedding Savings
top of page