Cheap Wedding

›
Reception
› Alternative Venues
Inexpensive Wedding Reception Ideas

Lots Of Alternative Cheap Wedding Venues
Find the cheap wedding ideas you are looking for:
Inexpensive wedding reception ideas that don't look cheap is what we all are aiming for. You start with the most amazing vision of your wedding day, then reality and your wedding budget sets in, don't worry you can still have the most amazing wedding without spending loads.
Your budget is everything, don't go over it as you don't want to be worrying about money.
Your biggest expense is going to be the reception, so you need to find a great deal and the only way to do that is by looking around. You can save money having your reception on any day of the week apart from Saturday and also try and avoid the wedding season which is mainly Easter to the end of summer. Also avoid Valentine's day and Christmas wedding days. You can make savings but that doesn't mean that it will be inexpensive!
A number of hotel and bar chains are offering weddings for a set price, a set number of people, a limited menu and their dj. These are big savings and are normally on dates that are not so popular but a great deal, just make sure you are happy with what is on offer.
If you have never heard about a particular venue why not check it out on Trip Advisor...

Unusual Venues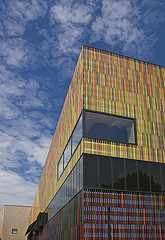 Also look out for unusual venues that are not normally associated with weddings, quite often the venue owners are so surprised that they rarely know what to charge, so again you can get a great deal.
Inexpensive wedding reception venues would be pretty community centers, schools, barns, cafes, parks, and small tourist attractions. You are more likely to find these by driving around the area where you want to have your wedding reception as you will see the venues for what they are and not what the photographs show you!
Also, don't overlook your friends and family - do they have connections to a great space that you could use as your wedding venue? By a great space we mean one that can fit the amount of people that you would like at your wedding reception.
If you are into cars how about a cocktails and canapes reception at your local luxury auto dealer, if you are into wildlife is there a nature reserve that you could hold an eco-wedding at, if you are a child at heart where is the nearest amusement park or zoo? None of those probably are on any wedding venue list for your area but they would all be amazing to have your wedding reception at, inexpensive wedding reception ideas are about being creative and having fun.
The wedding venue in the photo is at my local park - I know how lucky am I!? The great thing about this venue is that it is a state owned park so the prices are low when you compare it to the big venues in town. Plus the house looks great in the photos!
One of the coolest and unusual venues I was lucky to plan an event at was an auto dealership in Berlin. The wedding reception was in the evening where we served cocktails and canapes and the great thing was the dramatic lighting was already there. At night, the expensive motors are lit up to look even more gorgeous and they were a fantastic and unusual wedding decoration.
As an Amazon Associate I earn from qualifying purchases.
Other links on this site may lead to other companies that I'm associated with and this is how I can keep this site going and save you money on your wedding. 
Keep Up To Date With All The Latest Wedding Savings
top of page