Cheap New Jersey Wedding Venues
Find the cheap wedding ideas you are looking for:
New Jersey is a big, busy State with very contrasting landscapes from Metropolitan areas to countryside and also beaches, so you are really spoilt for choice as to the style of wedding you want. There are also so many options when it comes to choosing your wedding venue too.
However the really big popular wedding venues come at a hefty price range – we are talking $150 per person which is mad expensive when you probably want more than just a couple of people at your reception. Saying that, you can save money by having a Sunday wedding and also look at February and March as you can save around $30 per person, plus wedding venues in Southern NJ are more often cheaper in the North.
There are of course cheaper options …
New Jersey State Parks 
I love weddings held in State Parks as you are in a stunning location where everyone loves to be and you are so lucky in New Jersey as there are so many to choose from.
As well as a beautiful location, you will also want to be able to relax and enjoy your day too, which means that you will need to think about catering for your wedding. One relatively inexpensive way is to have a picnic or a barbecue.
So I thought it would be a good ideas to use the official list from NJ.gov of state parks with picnic facilities;
Allaire,
Allamuchy, 
Barnegat Lighthouse, 
Bass River, 
Belleplain, 
Bull's Island, 
Byrne (formerly Lebanon), 
Cape May,
Cheesequake, 
Delaware & Raritan Canal, 
Fort Mott, 
Hacklebarney, 
High Point, 
Hopatcong, 
Island Beach, 
Jenny Jump, 
Kittatinny Valley, 
Liberty, 
Monmouth Battlefield, 
Parvin, 
Penn, 
Princeton Battlefield, 
Ringwood, 
Round Valley, 
Spruce Run, 
Stephens,
Stokes, 
Swartswood, 
Voorhees, 
Washington Crossing, 
Washington Rock, 
Wawayanda, 
Wharton.

You will need to contact each State Park to check availability and you will need to obtain a permit from them too. It would also be a good idea to have a backup if the weather isn't great. Some of the parks do have venues you can rent.
Affordable New Jersey Wedding Venues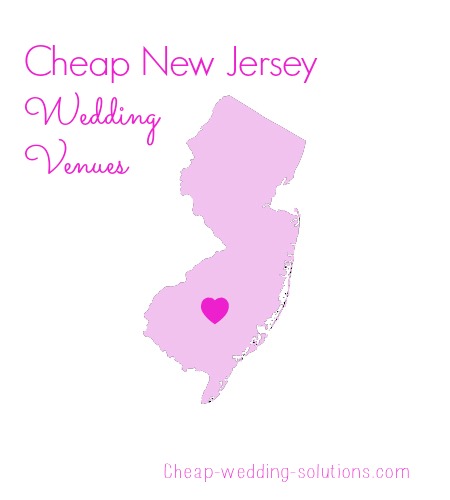 Courtyard on Main, in Freehold, NJ is a really affordable venue which holds up to 200 people. They don't have a liquor license which means you take your own and this will save you loads.
Montclair Museum, NJ this is a really popular wedding venue and has won quite a few industry awards, which is great but it means that there will be high demand which can lead to high prices. The cost of hiring the venue for your ceremony and also reception – round about 5 hours in total will be from $2000 to $4000 depending on when you want to book. You would then need to add catering costs on top of that, however they do allow you to bring your own drinks, which will save money.
Sayen House & Garden in Hamilton, NJ. Love this venue as it is so pretty and it would look fab in your wedding photos, plus the price is amazing too. It holds up to 100-150 people. The cost is $1000 if you are a non-resident of Hamilton Township but only $550 if you are! This would include one hour for your ceremony and then 4 hours for your reception. You do have to use their caterers, there is a choice of two and they seem reasonable. 
The Women's Club, Engelwood NJ, is another pretty venue with gardens and here you will also be able to bring your own caterers, florists, entertainment – everything! 
The Woman's Club of Maplewood is another club where you can rent the venue but I haven't been able to find any online contact details. My understanding is that it costs $900 for 7 hours, which is a great price for such a fab venue. You will probably need to knock on their door to find out more.
Also make sure you check out the many great restaurants in New Jersey, quite often you will be able to hire the restaurant for the day if they are normally closed for lunch.
As an Amazon Associate I earn from qualifying purchases.
Other links on this site may lead to other companies that I'm associated with and this is how I can keep this site going and save you money on your wedding. 
Keep Up To Date With All The Latest Wedding Savings
top of page