Cheap Wedding Home › Flower Centerpieces › Orchid
Orchid Centerpiece Ideas 
Find the cheap wedding ideas you are looking for:
An orchid centerpiece is stunning and they look expensive, which is great when you are looking to add a wow to your centerpiece without spending a fortune!
As there are many kinds of orchids choosing which one best suits your theme and budget should not be hard. Browse online and see the different species that are available in your locality.
Cheap Orchids
If you want a ready made orchid centerpiece it would be worth looking at your local stores and buy a potted Orchid which you could place on your tables and surround with confetti or votives.
Or artificial Orchids do look very realistic and would save you the worry that they may not last to your wedding day. I am terrible at looking after real Orchids and as much as I love them, there is little point in me buying real ones!
Worth checking out these sites for cheap real and silk Orchids:
Orchids on Amazon
The orchidae family is probably the largest group of flowers as there is currently 25,000 to 30,000 known orchid species around the world. The notion that orchids only grow in the rainforests of South America or South East Asia is a misconception as orchids can be cultivated anywhere except in Antarctica. For this reason, the use of orchids as centerpieces is no longer an expensive scheme as the flowers are now quite affordable.
To be honest the easiest orchid centerpiece is a floral arrangement. If you have the budget the easy route is to talk to a florist and tell her/him what you would like. The price of an arrangement would largely depend on the variety of the orchid and the number of flowers.
Or if you fancy being creative yourself here are some easy centerpiece ideas;
Cheap Orchid Centerpiece Ideas
You can save a bunch by doing your own arrangement.
One option is to buy a potted orchid in bloom. Paint the pot in neutral color then tie a silk motif ribbon around it. Place the pot in the center of the table and arrange votive candles around it. The centerpiece would be very simple yet elegant.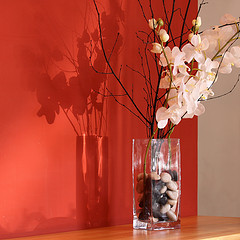 Arrange two to three orchid stems in a tall narrow vase. Fill the vase with white or colored pebbles to hold the flowers in place. Add some twigs to balance the orchid arrangement. You can source cut orchids at the local florist or the flower market. Get some fresh aster to make the three-orchid arrangement fuller. 

If you plan on doing your own centerpiece make sure you buy the flowers that are not yet fully bloomed. Though orchids typically last long, it is still best to choose ones that are not completely opened. Keep the orchids in a cool place away from direct sunlight.
Another bright idea for an orchid centerpiece is a floral floating arrangement. Choose a round, shallow and clear glass container. Fill it with water and floating candles. Add different orchid flowers (no stems) to float. The result will be a floating arrangement of orchids and candles. You might even want to put in a few drops of orchid scented oil in the water. For this you could use silk flowers to save money and worry that they may get damaged.

Or you could have a simple display of an orchid on a plate surrounded by votives.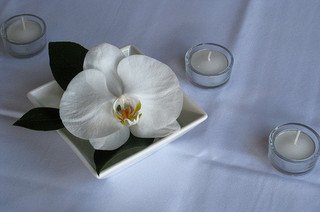 As an Amazon Associate I earn from qualifying purchases.
Other links on this site may lead to other companies that I'm associated with and this is how I can keep this site going and save you money on your wedding. 
Keep Up To Date With All The Latest Wedding Savings
top of page