Our Wedding

The Original Cheap Wedding Ideas
Find the cheap wedding ideas you are looking for:
Our wedding was on 12th July 1997, in Cheltenham at 1.30 and even though it is now nearly 15 years ago, I can remember it as if it was yesterday!

We invited 32 guests to the civil ceremony and wedding reception at the Prestbury House Hotel the number of guests was great as we could spend time chatting with everyone.
1997 was the age before digital camera so the picture of us is scanned and therefore it is difficult to see the detail of my dress. My wedding dress was from Dickens & Jones in London, and was a beautiful lace summer dress that I have been able to wear again. Simon's suit was from Debenhams.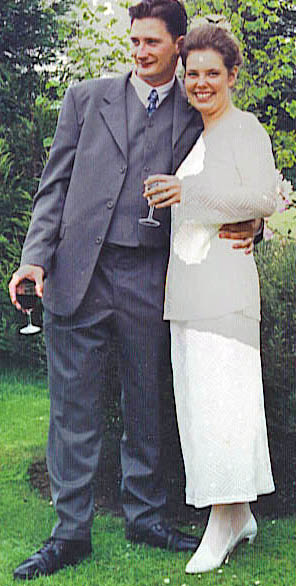 The civil ceremony was quite new in England, (that makes me sound old - I was a very young bride) and meant that we were married at the same venue, in a beautiful oak paneled room. After we had signed the marriage register we went out into the gardens for photographs, we didn't hire a photographer, instead we asked everybody for a copy of their photographs. We have an album full of fun moments from the day - my dad playing football with the nephews, the mums having a serious chat and us laughing and chatting with friends and family.

The wedding breakfast was a summer feast of salads and yummy goodies served as a buffet, and our wedding cake was from Marks & Spencer, my mum decorated it with pale lemon roses and we borrowed a silver cake stand from the hotel.
Lemon roses were our flowers, I had them in my hair decoration - made by my mum and the men wore them as button-holes. The hotel provided the floral displays in the wedding package.
Late in the afternoon we were whisked away in the wedding car, a favor from one of Simon's work colleagues to another beautiful hotel, the Hotel on The Park a stunning and luxurious hotel that we returned to on our 10th wedding anniversary. Our wedding day was very relaxed and informal, just as we wanted it and is remembered by everyone. It is still talked about now!
We also made lots of savings during the planning stages of our wedding; rather than sending wedding invitations we sent hand written letters to all of our guests asking them to join us and we hand wrote our thank you notes after, we only had wedding favors for the children which were party bags filled with fun goodies - a disposable camera, a dolly and little activity games to keep them busy. We didn't need any entertainment as everyone was too busy chatting, or playing croquet or football on the lawns, that is the beauty of having an afternoon wedding as it is much more relaxed than a lunch or evening reception.
I hope you find this site useful to find all of your own cheap wedding ideas and that your wedding brings you as much happiness in the years to come as ours still does.
Wishing you the best wedding day!
Suz
PS Sign up to my Cheap Wedding cents newsletter to help you with your wedding plans and find out all about the latest bargains.
As an Amazon Associate I earn from qualifying purchases.
Other links on this site may lead to other companies that I'm associated with and this is how I can keep this site going and save you money on your wedding. 
Keep Up To Date With All The Latest Wedding Savings
top of page