Cheap Wedding

›
Reception
› Outdoor
Cheap Outdoor Wedding Reception Ideas
Find the cheap wedding ideas you are looking for:
The great outdoors have become a favorite venue for wedding receptions. Incorporating Mother Nature into your wedding reception is refreshing. You can hold you outdoor reception by the beach or at the park or at a garden haven or even at your very own backyard yet the ambiance of fun and joy will still be there. It seems that many couples are opting for an outdoor wedding especially during the spring and summer seasons, here are some helpful outdoor wedding reception ideas to get you started.
Things To Consider

When planning an outdoor wedding, you should always have a back-up plan in case the weather refuses to cooperate during your wedding day. If you are holding your outdoor wedding reception in a rented venue, most have indoor facilities to serve as venue for plan B, with plan A being the outdoor wedding reception. If there's a need to suddenly change the arrangement because of unforeseen circumstances, you can always move the reception indoors.
Another great option is to set up tents, you can also opt to reserve a tent for the wedding reception to be delivered at the venue in case it rains. Depending on the time of the year, you might want to rent a heater or an air-conditioner for the tent. Make sure you put someone in-charge of this situation for you can't very well do the directing on your wedding day. The bride especially has to be relaxed during this day, your job is to come up with the great outdoor wedding reception ideas. It is after all, one of the highlights of her life.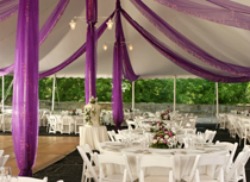 Make sure that there is adequate lighting for the reception. Weddings held in the afternoon could well extend well into the night so that sufficient lighting is important. Most outdoor venues have light provision but it will be better if you add your very own touch by accenting all the tables with candles of different makes, sizes and shapes. An artistic florist will be able to beautifully integrate candles in the centerpieces.
Are there restrooms? Consider the locations of restrooms. Suffice to say that a safe estimate is 35 persons per restroom. If this is a problem, you can always rent portable toilets. Bugs and other flying insects are a menace. You might want to burn some citronella sticks or candles to ward off the mosquitoes.
Make It Colorful and Unique
Lots of color is a great start to your outdoor wedding reception ideas. You should not be limited to popular season colors. Who says you cannot use blue and lavender for your autumn wedding? Who says you cannot opt for a myriad of colors for a winter wedding?
Choose an assortment of flowers for the bridesmaids' bouquet and table centerpieces. You can have big vases filled with colorful flower arrangements to be located in strategic areas of the outdoor venue. Use colorful table covers and table runners. Choose a non-traditional cake. Who says wedding cakes have to be white or off-white? Choose a cake that is the same color or something similar as your wedding motif. For your wedding favor, why not put them inside colorful boxes or choose colorful favors such as cupcakes, or lollipops or colorful personalized mugs?
Other great ideas for an outdoor wedding reception souvenir are potted plants. You can use different potted plants as centerpieces. For a round table, make a circle of the same potted plants for a centerpiece. For a long table, line up the potted plants the length of the table. After the reception, guests could take home the potted plants as their souvenirs.
For a rustic setting why not create an explosion of colorful centerpieces of colorful flowers on older pots, baskets and tins painted white. You can also use bowls of fresh fruits for centerpieces that the guests could eat. Whatever centerpiece you decide to use, make sure there are plenty of candles, hurricane lamps, fairy light or torches (for beach wedding reception)to make the outdoor setting romantic. You can also opt to hang colorful Japanese lanterns for a colorful and warm ambiance.
So where do you want your outdoor wedding reception to be? Here are some ideas for you to consider: beaches, botanical gardens, parks, local zoo or aquarium, on a yacht, up a mountain, atriums, theme parks, or even at your backyard.
It is best or look over the outdoor area at the time of the year that you want the wedding to be held. Make an advance booking and prepare for one of the most important events of your life.

As an Amazon Associate I earn from qualifying purchases.
Other links on this site may lead to other companies that I'm associated with and this is how I can keep this site going and save you money on your wedding. 
Keep Up To Date With All The Latest Wedding Savings
top of page