Cheap Wedding

›
Make Your Own Decorations
› Pink
Cheap Pink Wedding Ideas

That Your Groom Will Love Too
Find the cheap wedding ideas you are looking for:
Pink is a popular choice for weddings, which is great as it is pretty and romantic all at the same time.
However all over pink is not for everyone which is why mixing pink with a complimentary color is very on trend. That is a huge savior if you have chosen pink as your color and you have found that your groom is not in complete agreement and would like something a little more "manly"!
| | |
| --- | --- |
| | Photo courtesy of radio active gumdrop |
Popular Wedding Color Combinations At The Moment
Pink with;
Black
Orange
Chocolate Brown
Teal
Blue
Or Green
And don't forget there is not just one shade of pink, you could have anything from a pastel pink to a full on hot pink. Plus all of the shades in between.
Pink Flowers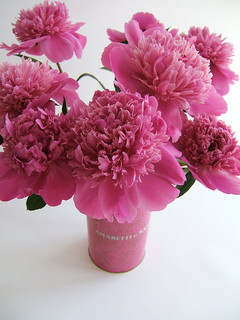 Photo courtesy of Geisha
The most obvious pink centerpiece is with flowers and to keep the costs down you could have cheaper flowers such as carnations, tulips and roses or peonies if they are in season. Or you could look to have a few flowers for each table rather than a big display.
Use more expensive flowers and then use a cheaper vase, love this homemade tin can vase that has been spray painted pink. Or you could have a glass vase that you have tied a complimentary ribbon to.
Pink candles and flowers make a pretty centerpiece. It could be a bowl with floating candles and Gerbera daisies or have a vase of flowers and then surround it with pink glass votives for an added sparkle.
Also have a look out for pink lanterns which you could decorate with pink petals.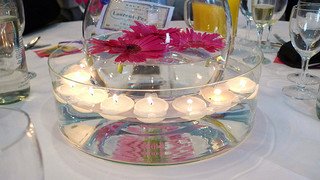 Photo courtesy of foilman
Pink Table Decorations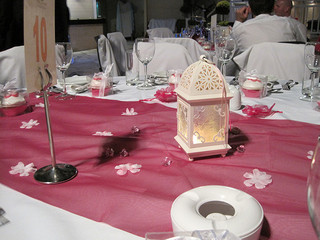 Photo courtesy of CyprusPictures
A really easy way to add extra color to your reception room and tables is to use pink tulle. Tulle is fairly inexpensive when you think how far a roll can decorate!
You can use tulle for your table runner or as a slip cloth (square) in the middle of the table.
Tulle can be tied to the chairs and around pillars.
Ribbons can be tied to napkins and then maybe the favor attached.
Pink favors or boxes of pink favors are an extra touch of color to the table too.
Pink Candy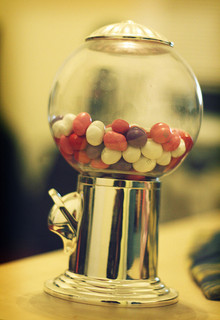 Photo courtesy of ginnerobot
You can use pink candy as your centerpiece, this mini gumball machine is a really fun way to display it. Plus it will keep your guests busy! Or you could have a jar filled with candy in your colors.
Candy tables are massive at the moment and there is a big choice of pink candy that you could use for your display. This is also a fun favor too.
Add scoops and mini paper bags to complete the table.
More ideas for candy buffets.
Pink Wedding Cakes
Well if you are having a pink themed wedding, you need a pink cake too. This could be decorated with pink icing or add a more subtle pink look with pink flowers, petals and ribbons. Just one of those things will be subtle not all of it!
| | |
| --- | --- |
| Photo courtesy of RLHyde | Photo courtesy of AMP Photo |
Cheap Pink Supplies

As an Amazon Associate I earn from qualifying purchases.
Other links on this site may lead to other companies that I'm associated with and this is how I can keep this site going and save you money on your wedding. 
Keep Up To Date With All The Latest Wedding Savings
top of page