Planning A Cheap Wedding

Where Do You Start?
Find the cheap wedding ideas you are looking for:
Planning a wedding can be stressful, but planning a cheap wedding without it looking cheap, where do you start?
Budget has to come first! The average Uk wedding is now over £17,000 and in the US the average wedding is $35-40,000, you don't want to spend this kind of money, so you need to be realistic on how much you can spend. You can have a fantastic wedding for a third of the price and even less.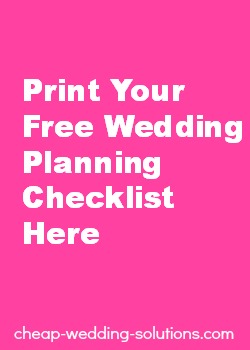 Now set the date! You might want to be fairly flexible until you have confirmed this with where the ceremony is to take place and the wedding reception venue. You may have to juggle to accommodate your desires! One couple only had one date available at the venue that they wanted so that is now the date for the wedding. It is a good idea when you book your wedding reception to have a rough idea of numbers, as you could have a smaller room which will cost you less. Don't forget you will also have to pay for each person's food and drinks, do you really need to have people there who you haven't spoken to in years?
When you have your venues booked now the fun begins! You will now need to book the professionals, and I don't mean the seventies duo for crime fighting. ;o)
You will need to book your photographer, your flowers, your cake, your caterer (unless included in the venue), transport, your dress and those of the groom, bridesmaids, groomsmen or ushers. Take a look around the site to get ideas on how to save money for your big day.
When you have confirmed each individual professional you will need to discuss your requirements, don't feel pushed into buying something you didn't want.
Now start to look at invitations and finalize your guest list. Order the invitations so that you can send them out a couple of months before the date. If planning a cheap wedding for you is at a far away destination you will need to send the invites out earlier.
Once you have sent off your wedding invitations you can concentrate on the little bits; decorations, favors, rings, music, hair and make-up appointments and gifts.
When you have had all your wedding replies, you will need to finalise numbers to the venues and double check all is OK with the 'professionals'!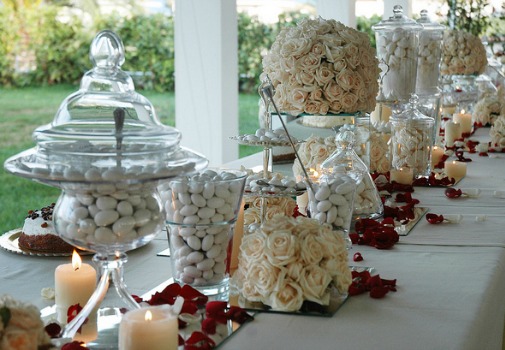 Photo by Maria Luisa Buccella
As an Amazon Associate I earn from qualifying purchases.
Other links on this site may lead to other companies that I'm associated with and this is how I can keep this site going and save you money on your wedding. 
Keep Up To Date With All The Latest Wedding Savings
top of page