Cheap Wedding › Dress › Rent/Hire
Where To Rent A Wedding Dress
Find the cheap wedding ideas you are looking for:
It makes sense to rent a wedding dress, it is an eco-friendly option and it should save you money but I was shocked at how much some of the rental prices are!
I found one dress for rent for $1000 which is just mad when you could look at buying a similar wedding dress second hand for much less. However, on average rental wedding dresses that I have seen are $300 - $400.
Even $300 seems like a lot for a dress that you will wear for one day and then hand back but if it was the most amazing dress and fitted you like a glove (or fitted you like a well-made wedding dress ;o)) then that would be understandable.
Sadly most wedding dresses for rent are not of a great quality, however this is changing.
The reason for the poor quality is that a number of dress designers and manufacturers do not allow their dresses to be rented out. Others even ask for their dresses not to be sold online so that they can try and avoid their prices being undercut.
Choosing whether you rent a wedding dress is also a cultural choice too.
Korea and Brazil are two countries where it is considered mad not to rent your dress. That might be due to the fact that Korean brides normally have up to 3 wedding dresses! The UK also has a number of rental shops for brides but the US has very few of any great quality.
Tips For Renting Your Wedding Dress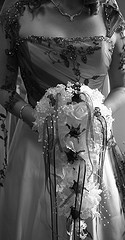 One of my friends rented her wedding dress in England for her wedding in Ireland and it was stunning, they altered the dress to fit her and it was perfect. Her sister then returned the dress to the bridal store on her return to England.
If you do rent a wedding dress for your destination wedding you will need to make sure you can hire the dress for as long as you need otherwise you could end up losing deposits or worse being charged more.

If you are looking for a rental dress because of the environmental reasons you would be better off looking at vintage dresses as well, especially if you are unable to find the dress of your dreams in rental shops.

If it is a cost saving reason then it is worth looking at 

cheap second hand dresses

 on places like 

Ebay

. A wedding dress is a bit like a new car in that as soon as you drive it out of the showroom it is worth half of what it was. You should therefore be able to pick up a wedding dress for at most half the original value. You could then look at selling it after to make some of your money back.

Selling your wedding dress is a good way to keep the costs of your dress down. You will get about half the value if your dress is new and a popular design. Dated dresses are difficult to sell, but they can always be described as classic to help you gain interest!
Where To Rent Your Wedding Dress & Accessories
If you are going to hire your wedding dress you will probably be better off looking locally for a boutique or store. However, here are some online stores that do have a reasonable amount of dresses to choose from.
As an Amazon Associate I earn from qualifying purchases.
Other links on this site may lead to other companies that I'm associated with and this is how I can keep this site going and save you money on your wedding. 
Keep Up To Date With All The Latest Wedding Savings
top of page