Cheap Wedding › Dress › Second Marriage
Second Marriage Wedding Dresses 

That Won't Cost A Fortune
Find the cheap wedding ideas you are looking for:
There is a notion that second marriage wedding dresses should not be white since the bride is not a first-time bride anyway. There's another opinion that second weddings should not be as elaborate as the first wedding or that the soon-to-be-wed couples should make an effort to have an elaborate wedding since the first time around was just a simple affair.
Here's good news for you. There are no strict rules. You can plan your second wedding anyway you want and wear whatever wedding dress you prefer. No one will mind for after all it's your wedding day and it goes without saying that you are now older, wiser and more experienced.
Here are some gorgeous wedding dresses that would be perfect and great prices too.
Are you an encore bride? If you prefer white for your wedding dress then go right ahead. However, most second-time brides have had their elaborate fairy tale white wedding dress and are looking for a more mature look for a second marriage wedding dress. A suit or a cocktail dress would do fine but if you still want to have a princess in white moment the second time around, then go right ahead.
You can wear whatever it is you want to wear as long as the wedding dress suits your personality, the solemnity of the occasion, your lifestyle and the theme of the wedding if there is one. Today's encore brides prefer ivory, ecru and pastel colors. However, these color choices are not limiting. The important thing is that the color and style that you choose fits you and the tone of the wedding. For example, if you choose a destination wedding on a beach, then you can opt to wear a fuchsia pink sarong or a printed tube dress for your wedding. A simple civil ceremony at the City Hall calls for a linen suit. A garden wedding entitles you to wear sheer flowing dress of pastel colors to match the beautiful and colorful garden.
There are so many available fabrics and design choices that finding a wedding dress should not be a problem. It would help to know what type of figure you have when shopping for a second marriage wedding dress. Choose the cut that will flatter your figure. It is best if the style that you choose enhances your best features and hides the the bits you don't want to show!
For practical reasons, why not opt for a wedding dress that you can wear again? Before Queen Victoria made it fashionable to wear white wedding dresses, brides just wore their Sunday best. You could consider that spanking expensive designer dress that you have always wanted but cannot justify the purchase. You can opt to for an off-white chiffon creation accented by applique. You can wear the sexiest red dress if you want especially if the wedding's venue is not at a church.
Note that second-time brides need not wear veils that cover the face. This tradition is for first-time brides only. It is acceptable to wear a cascading veil at the back ifthe wedding ceremony is formal enough. Fresh flowers or a hat is more fitting head dress for a second marriage.
Tips When Shopping for Your Second Marriage Wedding Dress
Do not be limited by the price or color. Try them all. You will never know if that dress is the dress if you did not try it on.
Wear the best undergarment that you have when fitting for your second marriage wedding dress. Wear undergarments in off-white, nude or white, for a truly seamless look and fit, wear a strapless bra and a thong. Make sure you wear the right kind of shoes too.
Bring a long your daughter or friend so you can have their opinion regarding your choices. They can even make helpful suggestions.
Shop during non-peak hours on weekdays. Choosing your wedding dress is stressful enough without the added stress of crowds of shoppers.
Choosing the right second marriage wedding dress should be fun.
Informal Second Wedding Dresses
Choosing informal second wedding dresses as your choice of wedding gown for your second wedding is such a personal thing. It may be because you have already had a big wedding or that informal is more your style. One thing for certain is that second time round you are definitely more in control and know what you want and don't want.

The great thing about choosing informal for your wedding dress is that you don't have to look exclusively in wedding dress shops and boutiques. Anywhere that sells a dress is a good place to look! My own wedding dress was a lace summer dress from a department store and there are often many summer outfits that would be perfect for a wedding.
One bride, Sheryl, wrote to me recently as she was so excited about her own wedding dress bargain, here she is in her own words!
What you choose to wear for your wedding depends on how kindly age has treated you. Take me, I'm not exactly looking for a wedding dress, so much as a disguise! Hahahaha!

If you are blessed with a shape, besides round in your later years, your choices are unlimited. However, the rest of us have to consider what will look most flattering on us. I, personally like long hip-length vests and jackets and blouses. They cover up the belly pretty well, although you do tend to look a little square! I'll take square over lumpy. Don't get me wrong, I HAVE curves, it's just that there's too many of them and they are all in the wrong places!
Pair that with some nice fitting slacks or a knee to ankle length skirt, and you can stilllook pretty classy. If you're really lucky, and have married off a child recently, you could always re-use that mother of the bride/groom dress. Unless you are into pain, I'd suggest wearing low pumps or flats that have already been broken in.
Of course, there are always alternative outfits, if you are really daring; Caftans, Sari's, Mu-Mu's, pantsuits or, if you are a country gal, your best, pressed and starched jeans, cowgirl hat and clean boots.
Take into consideration the weather on the day of the ceremony, and whether or not you will be indoors or outdoors for the ceremony. I favor indoor weddings for the climate control and no ants in the food! You won't want to be fighting a full skirt on a windy day at an outdoor wedding.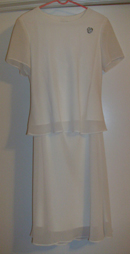 Also, consider if you want any kind of hat instead of the traditional tiara and veil. You can save money by buying an unadorned hat and decorating it yourself, using silk flowers, feathers, jewelry, ribbon, and a hot glue gun.
Whatever you choose to wear for your informal second wedding dresses, let it reflect YOUR personality. Look at thrift stores, yard sales, Craigslist clothing and the freebies may even yield something, you never can tell. My own 2 piece wedding outfit cost me only $3.00 plus tax, at a Goodwill store, for 1/2 price!
Also discount stores, after holiday sales, make your own, if you are good at sewing. Just because you find something that suits your style and looks good on you doesn't mean it has to cost and arm and a leg!
As an Amazon Associate I earn from qualifying purchases.
Other links on this site may lead to other companies that I'm associated with and this is how I can keep this site going and save you money on your wedding. 
Keep Up To Date With All The Latest Wedding Savings
top of page