Cheap Wedding

›
Reception
› Table Card Holders
Cheap Table Card Holders
Find the cheap wedding ideas you are looking for:
Table card holders are a necessity if you have a large wedding reception and you need your guests to find their tables and their place! The good news is that they don't have to cost a fortune, in fact they don't have to cost anything!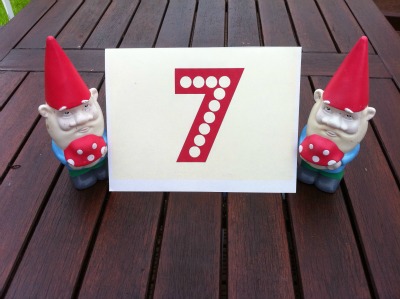 This is the type of cost that you probably didn't budget for, who would? Your first option is to ask your venue if they have table number holders that you can borrow for your reception. Most do have them and I have never worked at a venue that doesn't.
Of course that doesn't work if you are catering the event yourselves, whatever you do don't buy them from a wedding supplier, they will cost silly money for what they are.
Have a look at bridal forums, Ebay, Etsy and local free ads for brides that are selling their table card holders after their own wedding. You will save yourself lots.
Some brides have been lucky to find their table number holders at dollar stores, they probably won't be as tall as the ones that you would buy from catering suppliers but they will do the job.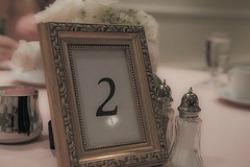 If you still haven't found any then you could think about making your own. All you will need is access to a computer and printer, and a few extras to display the numbers. You could use photo frames for the table numbers, these look great, just make sure that you can see them when you have all of your other decorations on the table. You don't want your guests wandering around lost!
For a more informal wedding reception you could stick the table numbers to empty bottles. One wedding used blue glass mineral water bottles with the table number on the side and a rose in the bottle and then had tealights around the bottle, a simple table card holder and centerpiece in one!
If you are looking for holders for your guests' names, don't. They will be an additional cost and you don't need them. Keep it simple and have each guests name either tucked into the napkin or flat on the place setting.

As an Amazon Associate I earn from qualifying purchases.
Other links on this site may lead to other companies that I'm associated with and this is how I can keep this site going and save you money on your wedding. 
Keep Up To Date With All The Latest Wedding Savings
top of page