Cheap Wedding

›
Make Your Own Decorations
› Tulle
Cheap Tulle Wedding Decorations
Find the cheap wedding ideas you are looking for:
Tulle wedding decorations are probably one of the least expensive decor and accessory for a wedding. It is a versatile fabric that you can use in almost all aspects of the wedding: from the wedding dress down to the wedding favors. You can use tulle to decorate the church and the reception area. You can drape it, swag it, hung it, cut it, ribbon it, crumple it, lace it and even use it as your wedding veil if you please. Of course another type of tulle is required for a veil but you get the picture.
Tulle was primarily used for tutus back in the days. They come in different colors, thickness and softness. The more delicate tulle is, the more expensive it is but the more graceful it will drape over the wedding canopy or gazebo. The coarser type of tulle would bode well for ceiling swags and canopies. You can go crazy with tulle but too much of that might make your wedding too tacky for comfort.
Decorating with tulle needs a little advance planning. Even if you have a decorator for the church and the reception venue, you and the decorator need to confer on how to approach the decorating. You just cannot buy yards and yards of tulle wedding decorations and hope that everything will fall in its right place. That cannot happen. Advanced planning and a little bit of designing is needed. It is also necessary for you to know how much tulle is needed. Measure and compute to arrive at the right yardage of tulle wedding decorations needed. Tulle are usually available in 6" netting and in bolts of 53" x 40 yards.
Ceremony Decorations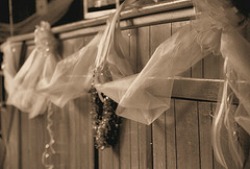 The secret in decorating with tulle is not to overdo it. If you plan on getting married under a canopy of tulle and flowers, see to it that you have no tulle whatsoever on your person - dress, veil or bouquet. That being said you can drape and twist the tulle around the bars connecting the canopy and attach a fitting flower arrangement at each corner making sure that satin ribbons (may be in the color motif) hang down gracefully from the flower arrangement. You can also choose to drape from the top of the canopy down to the floor layers of tulles and then crown with a large floral arrangement at the front of the canopy facing the congregation. You might want to add some silk ribbons for accent.
If there is no canopy of tulle, you can choose to decorate the pews with tulle. Decorate each end of the pew along the aisle with a bouquet of flowers with tulle bows. It is fairly easy to do tulle bows as there are plenty of do-it-yourself tulle wedding decorations websites that teach bride-to-be's on how to do simple tulle ribbons. You have the option to scallop the tulle from one pew to the next and then position floral arrangement with tulle ribbons at alternating pews.
Reception Decorations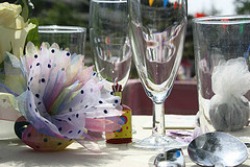 Wedding receptions are normally held in big spaces requiring a lot of decorations. Though satin and silk would look great in decorating the ceiling of the entire reception hall, they are quite expensive and impractical if you were to buy them. A cheaper option is to use tulle in decorating the whole reception area. You can start by draping yards of tulle from a focal point in the banquet hall down to the sides and corners of the room. You can hang down wonderful Tivoli lights from the ceiling for effects too. Try to be consistent with the use of tulle. If you draped and swaged them at the wedding ceremony, do the same at the reception. You can drape tulle on the cake table or swag tulle on the reception chairs. You can wrap and twist tulle around banisters, pillars, columns and doorways add some color by complementing them with flowers. You can use some tulle to as base for each table's centerpiece or table runners and even as decor for the bridal car.
Not enough use for tulle wedding decorations? There are edged tulles available in different colors for wrapping wedding favors. Make sure you keep your eye open for too much tulle use. Keep the decor simple but elegant.

As an Amazon Associate I earn from qualifying purchases.
Other links on this site may lead to other companies that I'm associated with and this is how I can keep this site going and save you money on your wedding. 
Keep Up To Date With All The Latest Wedding Savings
top of page