Cheap Wedding

›
Menus
› Drinks
Wedding Drinks
An Easy Guide

Find the cheap wedding ideas you are looking for:
Wedding drinks have become more and more glamorous, they are a subject on their own but they don't have to cost the earth.
For a number of couples the look of the drinks table is just as important as what is in the drink.
And there are a number of hot trends at the moment.

His and Her Cocktails

On great way to add your personality to the drinks table is to have his and her cocktails. You could have a blackboard sign in front of the table with the ingredients in both and you could even go as far as having his and her on the glasses.
Some simple cocktails that you could make yourself are - Bellinis (Sparkling wine and peach juice), infact any Champagne style cocktails, Mint Juleps (Bourbon, mint syrup), Pimms cup, Gin Fizz, and any Vodka based drinks.

Themed Cocktails

It doesn't just have to be his and her drinks, you could theme your wedding drinks to your wedding colors.
Fruit juices make lovely bright colored drinks, with infused waters and infused lemonades a more subtle color.
As well as colors you could theme your drinks to the place you met or your favorite place.

by Dinner Series

Infused Drinks

Infused waters and lemonades are really simple to make and they look lovely. All you do is place the fruit into the bottles or jugs and leave overnight for the flavors to infuse.
If leaving this to the night before is a bit stressful you can instead make infused ice-cubes with pieces of fruit or herbs and then have the ice-cubes added to the drinks just before you serve them.

Mint infused water by S Urtr

Mason Jars

A big trend at the moment is to use Mason jars as drinks glasses, they are quirky and easy enough to decorate to your theme as well.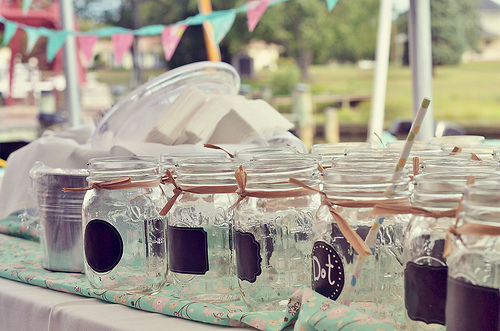 Photo by JJagner

Mason Jar Supplies


You will need a 16oz Mason Jar rather than anything bigger for your drinks. These you can buy at wholesale prices from Koyal Wholesale.

Straws and Stirrers

You want your drinks to look fabulous and one fun way is to add stirrers and straws. Paper straws with drinks labels look great.

A great drinks display wouldn't be complete without fabulous looking accessories and these ones are at wholesale prices. Even better!

To make them even more glamorous you can add a paper label like a flag with a wedding message, or your initials, or the date - anything really!

How Much For Each Person?

Quantity for each person is arrival drink, half a bottle of wine (or alternative), and a sparkling toast.
Arrival drinks; glass of wine, fruit punch, pimms, bucks fizz, sparkling wine. To keep the costs down keep it simple, you will be charged more if you have asked for a cocktail on arrival as this will need more staff and lots of ingredients both cost money. You don't need to have a free bar, no one expects it, but it is worth checking the bar prices of the venue before the day, if they are too high ask for a reduction in price if you know that there will be high takings on the day. There is nothing worse than guests grumbling over the price of their beer.
Drinks with the meal will probably be wine, ask to taste the wines that they have on their list. You may not like the house wine but a bottle only slightly more expensive could be perfect. If you want to buy your own wine ask for a corkage price, this is the amount you would be charged per bottle for them to open it for you. It is worth looking at as you could save yourself money by buying when there is an offer or sale. Ask for all of your empty bottles to be kept to ensure that you only get charged for the bottles opened.You know your guests, if they don't drink wine you could have a couple of jugs of beer on each table instead or a jug of fruit juice.
The toast is traditionally sparkling, it doesn't have to be Champagne. There are some great sparkling wines that are a great alternative, ask to sample the choices at your venue. Any help needed just ask!

As an Amazon Associate I earn from qualifying purchases.
Other links on this site may lead to other companies that I'm associated with and this is how I can keep this site going and save you money on your wedding. 
Keep Up To Date With All The Latest Wedding Savings
top of page