Cheap Wedding

›
Make Your Own Decorations
› Ideas
Cheap Wedding Reception
Decoration Ideas
Find the cheap wedding ideas you are looking for:
Wedding reception decoration ideas that won't cost a fortune are going to be mainly about you making them yourself, and borrowing things! As well as finding some bargains.
The first thing to remember is as soon as decorations are labelled with wedding they become more expensive, sad but true. So if you are looking for say butterfly decorations for your butterfly centerpiece look in party supplies rather than in wedding supplies and you will save money. Also give yourself plenty of time to find the decorations that are right for you and make sure you look in the sales after major holiday times.
You will want your wedding decorations to give a wow to your room and the cheapest ways to decorate a room will be with fairy lights - borrow everyone's Christmas lights, paper lanterns and bunting.
Bunting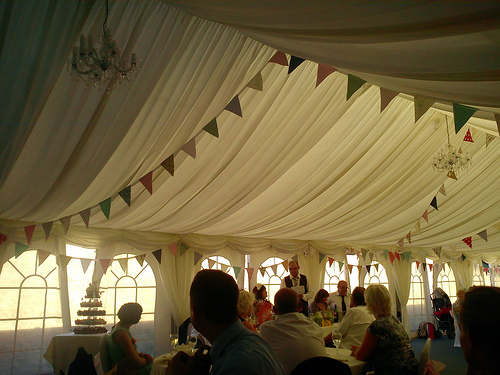 Photo by Superba
Bunting is really popular at the moment, it goes well with a vintage theme with lots of material bunting made from old material everyone already has or it is also good if you want a more sophisticated look with your bunting matching your colors. Buy your material in bulk and if you have anyone that is willing to help give them the triangle template that you are using so they are all the same size.
I have also seen bunting made from cotton hankies and also paper doilies - both looked fantastic and they will be much quicker to make as you won't have to cut out lots of triangles!
Paper Lanterns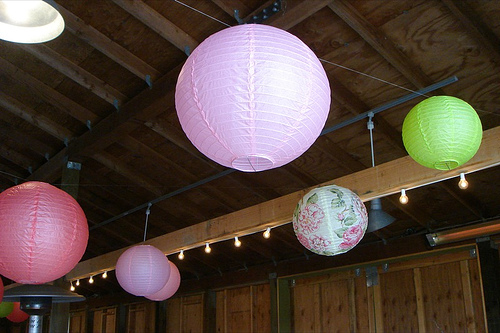 Photo by Bitboy
Paper lanterns can also match so many wedding themes and styles, with bright multi colored lanterns for a fun, relaxed wedding to all white lanterns for a more classic look. String the lanterns across your room and even have them on the front of the top table.
If your wedding reception is in the evening then look at having lots of candles, they are cheap and they also make anywhere look magical!

As an Amazon Associate I earn from qualifying purchases.
Other links on this site may lead to other companies that I'm associated with and this is how I can keep this site going and save you money on your wedding. 
Keep Up To Date With All The Latest Wedding Savings
top of page