Cheap Wedding

›
Menus
› Punch Recipes
Cheap Wedding Reception Punch Recipes
Find the cheap wedding ideas you are looking for:
Here is how to make your favorite wedding reception punch recipes that taste great without it costing you a fortune!
A few tips to start with - don't give your guests massive glasses as the bigger their glass the more you will have to fill it and make sure you have plenty of ice - preferably crushed to again reduce the amount of wedding punch you will need to serve, plus it looks good too!
Wedding drinks are all about presentation so it is worth thinking about how you are going to serve your punch.
You can hire punch bowls with ladles from good hire stores, these look good but are a bit slow when you are serving your guests.
The easiest way to serve your drinks is to have them made up before, on trays, so that your guests can help themselves.
You can then have jugs of wedding punch for any top ups.
Garnishes on your drinks look great and you can make these with chopped fruit either in the glass or on the side. A straw in each glass will mean your female guests will be able to keep their lipstick on for longer and if you are saving money by washing the glasses yourselves after the event then this will save you a lot of time!
Great wedding reception punch recipes have a good mix of ingredients with not too much alcohol, you don't want your guests too drunk at the beginning of your wedding reception, and they are also great if you want to provide a non alcoholic alternative.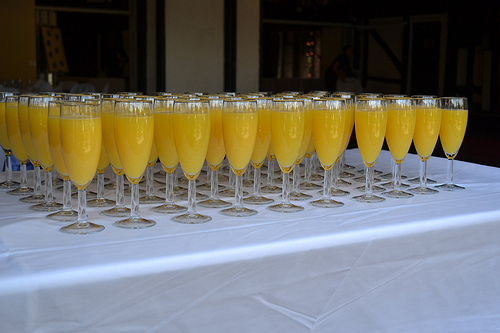 Photo by B Igpresh
The easiest way to save money on the ingredients is to substitute expensive Champagnes with cheap sparkling wine and use own brand spirits and mixers. When everything is mixed together you won't be able to tell.
Sparkly Wedding Reception Punch Recipes

Bucks Fizz Orange Juice and Sparkling Wine
Bellini Peach Juice and Sparkling Wine. You could use any juice that you like and fits with your budget! You could even add the juice that fits with your wedding colors.
For a non alcoholic twist use sparkling water or lemonade in place of the sparkling wine, it tastes divine.
Alcoholic Fruity Wedding Reception Punch Recipes

Rum punches are a great fun wedding drink, mix this with tropical juices; mango and pineapple and then have lots of chopped up fruit in the punch.
Vodka Punches are easy to make as the vodka will mix with all fruit juices and mixers, add cranberry juice and sparkling water for a beautiful pink punch.
Mulled wine is great for a winter wedding if it is cold outside, all you need is red wine, cinnamon sticks, water, sugar and nutmeg. Mix everything together in a pan and heat through, serve in glasses with a handle. You can also have spicey hot cider which is very tasty, just replace the wine with the cider. Have someone make this before you get back, it can be kept warm in an electric soup tureen or thermos flasks work well and they are easier to pour from before the guests see the drinks.
Non-Alcoholic Wedding Punches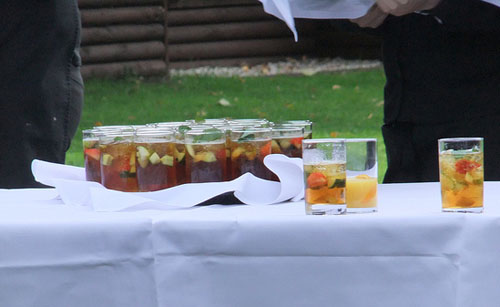 Photo by Lee J Hayward
For a non alcoholic wedding punch mix up your favorite fruit juices with lemonade, or lime, ginger ale and sparkling water for a less sweet option.
Traditional homemade lemonade is great for a summer wedding and very simple to make, all you will want is lemons, water and sugar. For every lemon you will want a cup of water and then mix in the sugar until you are happy with the taste. Serve over ice with a slice of lemon.
Make sure you garnish with lots of fruit to make it look extra special.
It is a good idea to experiment with your favorite punches so you get it just right for you, don't be scared to try extra ingredients just remember that the more you put in the more it will cost!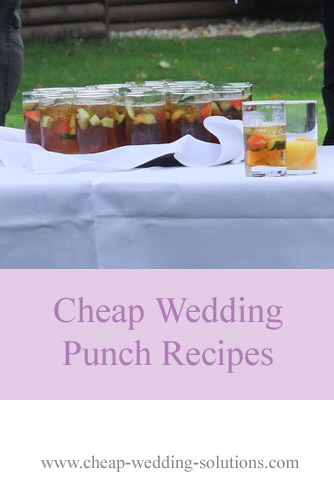 As an Amazon Associate I earn from qualifying purchases.
Other links on this site may lead to other companies that I'm associated with and this is how I can keep this site going and save you money on your wedding. 
Keep Up To Date With All The Latest Wedding Savings
top of page