Cheap Beach Wedding Dress
Find the cheap wedding ideas you are looking for:
When it comes to choosing a beach wedding dress you will want it to fit in well with the natural beauty of your location and dare I say it, you will want romance with a touch of practicality.
Beaches are beautiful but they are also unpredictable.
Top Tips For Your Beach Wedding Dress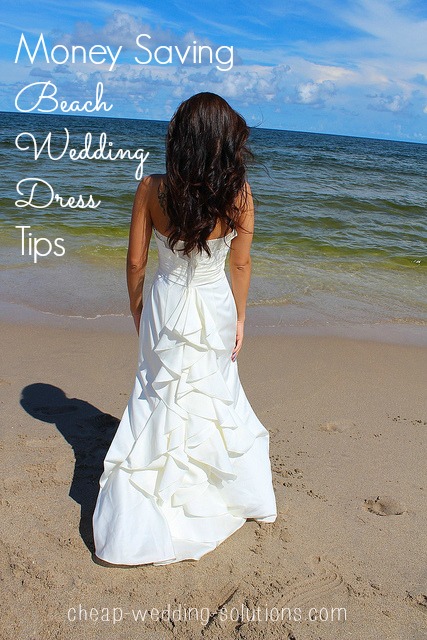 A light weight dress will be easier to walk around the beach in, with that in mind lots of brides choose dresses covered with lace as they look so beautiful but they are not so heavy.
Another option are summer dresses as an alternative to a wedding dress as they save lots of money and there are often lots of very pretty dresses to choose from.
The length of the dress is important as it is unlikely you will be wearing high heels for your ceremony on the beach. Have your dress length to fit either bare feet, sandals or flip flops.
If you want to wear high heels later in the day at your reception you may be better off choosing a shorter knee length dress as this style will look good bare footed and also with heels.
If your wedding dress is too long it will get dirty and sandy really easy, plus it may get wet with the sea. Romantic photos walking hand in hand along the water's edge look great but are not great for your wedding dress.
This goes against everything I have said before but a long floaty wedding dress does look fab at a beach wedding, however as mentioned above it will get dirty and possibly wet. Floaty chiffon material will dry quickly and the sand you can brush off when it is dry - don't bother when your dress is wet as it goes nowhere.
If you are planning on buying a secondhand beach wedding dress it is a good idea to avoid satin dresses as these will stain much easier and are trickier to get clean. Before you buy check the hem to see how much damage there is. If you are shorter than the original bride this is a big advantage as the bottom of the dress won't be needed!
Where To Find A Cheap Beach Wedding Dress
The beauty of choosing a more relaxed style for your wedding dress is that you can find your dress in many places;
Regular dress store selling summer dresses
Prom dresses
Many online dress stores.
Here are some lovely beach wedding dresses to buy at the moment, that are also inexpensive too.
As an Amazon Associate I earn from qualifying purchases.
Other links on this site may lead to other companies that I'm associated with and this is how I can keep this site going and save you money on your wedding. 
Keep Up To Date With All The Latest Wedding Savings
top of page