Cheap Wedding › Dress › Informal
Cheap Informal Wedding Dress Ideas
Find the cheap wedding ideas you are looking for:
A cheap informal wedding dress is a perfect style statement and you would be in good company, just think Carrie in Sex and The City and her final wedding dress of the film!
By the fact that this is a dress for your wedding  it is no way going to be as informal as wearing your jeans but it will be a lot less fussy. Although talking about jeans one of my sister-in-laws wore her jeans and a fluffy pink jumper to get married in and it worked for her. Informal for your wedding is really about being honest with what your style is.
Shop Cheap Informal Wedding Dresses
If your style is more quirky and original then start having a look in local thrift stores and vintage dress shops, a classic 1950's cream suit or a hippy style flowing dress would be perfect for your wedding if they are perfect for your style.
The beauty of an informal wedding dress is that anything goes, the price is often a lot less than a full on wedding gown and it will suit your wedding. They are coming more and more popular that some of the top wedding designers are adding them to their collections, classic dresses with very little decoration.
Here are some lovely wedding dresses that have a more relaxed feel but still look gorgeous.

Budget Wedding Dress Suppliers 
Sammy Dress - they have over 800 different wedding dress styles for under $100.
House of Brides - Discount wedding dresses section
Plus Size Bridal - Online discount wedding dresses for plus size brides
Amazon - seriously worth looking at as so many bridal shops are using fulfilled by Amazon for their online sales.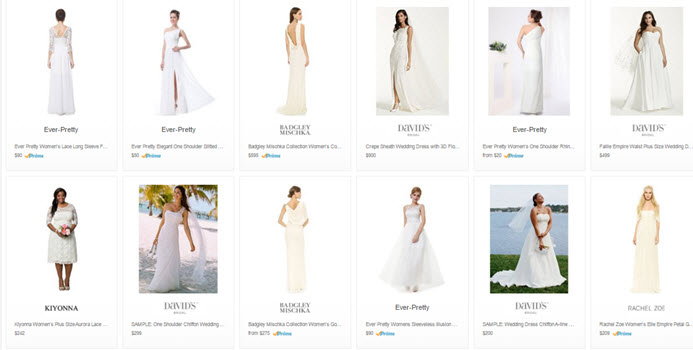 There is so much choice on Amazon for wedding dresses and great prices too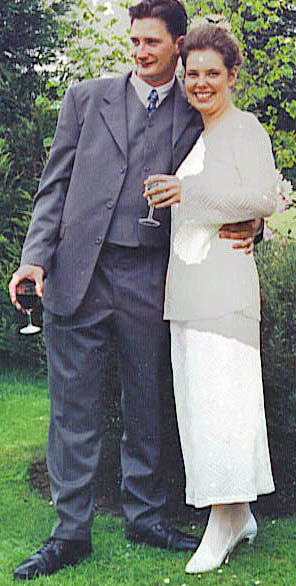 A great informal wedding dress is a summer dress with spaghetti straps and much more practical at a destination beach wedding as it is always good when you can last the day celebrating. Beautiful summer dresses can be found in local department stores, I found mine in Dickens & Jones in London. And that is us in the photo 18 years ago!  We married very young ;o) The dress is a lace summer dress with a matching top over it. I have worn both parts again but separately.
That is another great thing about an informal wedding dress, you will be able to wear it again. This is not the kind of dress that you will wear once and then keep in a box.
If you want your informal dress to have some sparkle then have a look at bridesmaid dresses as these come in lots of colors and styles, plus they are normally lots cheaper.
If you keep your dress simple then no one but you will know that it didn't cost the earth, you can then add flowers to your hair or beautiful jewelry for an added wow.
As an Amazon Associate I earn from qualifying purchases.
Other links on this site may lead to other companies that I'm associated with and this is how I can keep this site going and save you money on your wedding. 
Keep Up To Date With All The Latest Wedding Savings
top of page