Cheap Wedding Home

›
Dress
› Maternity
Where To Find A Cheap
Maternity Wedding Dress
Find the cheap wedding ideas you are looking for: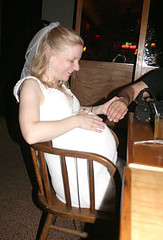 A cheap maternity wedding dress does not have to be a cheap plus size wedding gown, there are plenty of options for a pregnant bride.
Being a pregnant bride is an excuse for a double celebration!
All the tips in the cheap wedding dress section also apply here. In other words shop around to look for the best dress for you and keep your eye out for the sales.
Nearly all bridal shops will sell maternity wedding dresses but it is worth calling them up before you visit to make sure they have them in stock!
Here are some of my favorites at the moment:
Buying your cheap maternity wedding dress secondhand either locally, where you will be able to try it on, or through an auction site like ebay are good options to save money. Have a look at the latest maternity wedding dresses available at the moment at at the moment.
Top Tips For Finding Your Perfect Dress
What you must avoid is buying a dress that will not fit when your wedding day arrives, ensure that your dress can be altered or look at those dresses with the stretchy fabric.

When you are pregnant your shape changes all the time so you will want to leave any alterations to the last minute.
The style of your dress will depend on you and how you want to show off your bump or not. A classic empire line dress where it goes in just under the bust and then flows over your bump would hide your bump. Clingy dresses make from stretchy fabric will show your bump off.
Adding a shawl or jacket could be worth looking at for comfort and then your dress could be strapless.
Comfort is a big part in choosing a cheap maternity dress, I know that when I was pregnant I used to get very hot but every pregnancy is different and you know what makes you uncomfortable, so try to minimise your discomfort.
Keep an eye on shoes as you will be standing a lot, again it might be worth waiting to buy your shoes until closer to the day as your feet can get bigger when you are pregnant, I know mine did!
Don't let anyone bully you into a dress that you do not want, remember you can still wear white if you want to and you can still have your dream wedding.
As an Amazon Associate I earn from qualifying purchases.
Other links on this site may lead to other companies that I'm associated with and this is how I can keep this site going and save you money on your wedding. 
Keep Up To Date With All The Latest Wedding Savings
top of page