Cheap Wedding › Destination › Las Vegas
Cheap Wedding In Las Vegas

Without A Singing Elvis!
Find the cheap wedding ideas you are looking for:
A cheap wedding in Las Vegas can be the start of a bad joke but it doesn't have to be that way, there are lots of amazing places to get married that won't cost a fortune and with Las Vegas being one of the most popular wedding destinations they are ready for you!
The Legal Stuff For Getting Married In Las Vegas
There are some costs that you can't avoid and that is your marriage licence! For this both of you have to be over the age of 18, unrelated and not married.
You obtain your license from the Marriage License Bureau and this has moved to 201 Clark Avenue, Las Vegas, tel (702) 671 - 0600, they are open 8am to midnight 7 days a week (can't get over the fact that they are open until midnight).
At the time of writing this the license will cost you $60.00. Both of you will need to attend and you must have photo id with you.
Cheap Places To Get Married In Las Vegas
When you have your license you are free to marry in Las Vegas, the cheapest place is to go to the Commissioner of Civil Marriages, 309S 3rd Street, 1st floor - they are open from 8am to 10pm 7 days a week and again at the time of writing you will need to pay $50.00 in exact change. They don't provide a witness so you will need to take your own!
Most people who get married in Las Vegas use one of the many chapels or hotels that are all over the town. This is the place to go if you are into bizarre and fun, you can get married in a drive through, a helicopter, a pirate ship and even a full Star Trek wedding! Or you can go for the more traditional approach, with a full white wedding at one of the chapels.
Although Las Vegas is famous for its quick marriages and it is one of easiest places to get married, it is worth planning your wedding before you go.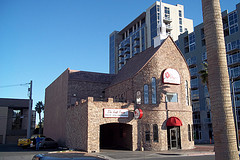 You will see many chapels advertising ceremonies for $50.00, this will be for the use of the chapel and if you want a minister - which lets face it would be useful ;o) this can cost you the same again. Most chapels won't let you take your own photographer, you will have to use theirs and they may not let you keep the negatives. Try to negotiate to obtain these as then you have control of the reprints.
When you add up all of the extras it can end up being expensive so it is worth comparing these costs with other chapels and hotels in the area. Most of the hotels do have wedding packages which can end up being cost effective when you compare like for like. Worth having a spreadsheet to compare the different places.
We found quite a few Cheap Vegas weddings for under $100 as lots of chapels offer discounts for quieter days and you can choose basic packages.
If you are travelling from outside the US for your cheap wedding in Las Vegas you will need to obtain a certified copy of your marriage cerificate, at the moment that will cost $10 and an apostille from Nevada Secretary of State costing $20 at the moment. These can be sent straight to your government for you.
As an Amazon Associate I earn from qualifying purchases.
Other links on this site may lead to other companies that I'm associated with and this is how I can keep this site going and save you money on your wedding. 
Keep Up To Date With All The Latest Wedding Savings
top of page