Cheap Wedding Napkins

How Many Will You Need?
Find the cheap wedding ideas you are looking for:
Cheap wedding napkins come in a variety of colors and thicknesses or 'ply', plus you have the choice of paper or linen.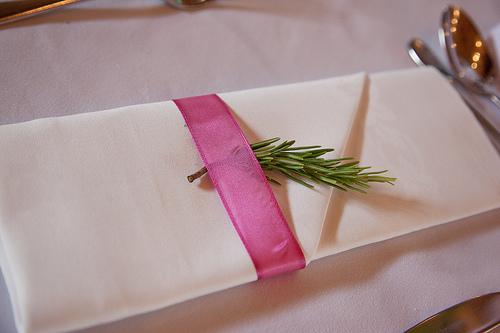 Photo by Phil Hawksworth
If your reception is to be held in a hotel, restaurant or catering venue you need to check if the cost of napkins is included. Most places will provide a white linen napkin for the sit down meal and then paper napkins served with the cake. Their paper napkins will normally have their logo on but I don't think it is worth buying your own napkins, as in the grand scale of things what is the point of going over your budget for something that will be thrown away?
If you are catering for the event yourselves you do need to buy your own paper napkins or hire your own linen. The cheapest is 1 ply but you would go through so many of these as they are very thin it would be better to have a thicker napkin.
Cheap Supplies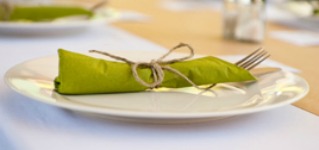 Most weddings will have 2 ply or 3 ply, if you are going to go up to 4 ply you may find it cheaper to hire linen napkins or go for a linen look paper napkin. You can hire linen napkins from most catering hire companies, you should be given a choice of colors, so you could have them match your color scheme or stick with white as this will probably be cheaper. The great thing about hiring is that you won't have to wash them - just have them collected at the end of your reception - make sure someone is responsible for this as you won't want to loose your deposit or pay extra.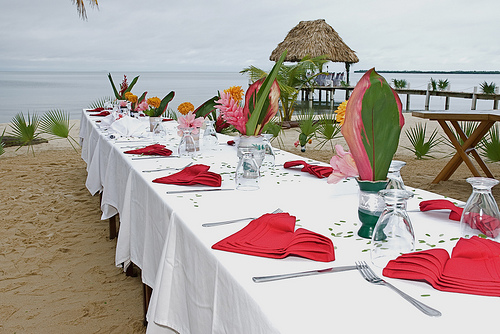 Photo by astuder
If I am buying cheap wedding napkins I normally go with the linen look for the main meal, a brand such as Duni are great as there is so much choice of colors and designs. I would use cocktail napkins if it is a canapes reception - these are smaller and cheaper which is great as your guests will probably use 3 to 4 napkins each. If it is an informal buffet or barbecue then use 3 ply napkins, your guests may need more than 1 if you are serving something messy. I know it is a bit dated but to avoid your guests taking too many napkins at the buffet station, wrap the cutlery in a napkin or alternatively set the tables with place settings for each guest.
When you are deciding on how your tables are going to look avoid fancy napkin folds and napkins in glasses this is dated, and very annoying when you are trying to pour wine into the glasses!
A beautiful way to have your cheap wedding napkins at the place settings is with a simple fold, fold the napkin in a rectangle and then fold the ends into the middle, now fold 1/3rd of the napkin on top resulting in an envelope design. You could tie the napkins with ribbon - very time consuming, or place a flower or favor on each napkin - much easier! You could then place the napkin at the middle of the place setting.
Personalized cheap wedding napkins? That is your shout, I wouldn't as I have never seen the point, you could have the wedding cake served or wrapped in one as a going home gift but apart from mums and aunties not many people will notice.
With all napkins make sure you have more than you need, work on 10-15% extra, spills happen!

As an Amazon Associate I earn from qualifying purchases.
Other links on this site may lead to other companies that I'm associated with and this is how I can keep this site going and save you money on your wedding. 
Keep Up To Date With All The Latest Wedding Savings
top of page