Cheap Wedding

›
Flowers
› How To Preserve
How To Preserve Wedding Flowers

Find the cheap wedding ideas you are looking for:
Learning how to preserve wedding flowers at home will save you money as having your flowers professionally dried will cost you hundreds, though you know they will do a great job.
Professionally freeze dried flowers cannot be duplicated at home and if you want your flowers to look almost as good as they did on the day then this really is the only way to go. This method is the only way that your flowers will hold their color and will take 3 to months to be completed. Make sure you ask to see examples of their work before you entrust them with your precious flowers! You will need to make sure that your flowers are collected by them as soon as possible - it would be a good idea to ask your wedding venue to keep the flowers in their chiller to preserve them as much as possible, not in a bucket of water. They will then dry your flowers and then either frame them or arrange them in a glass dome. The end result is beautiful but it will cost hundreds and after a few years you may not want your wedding flowers still displayed. Although I know some brides that 10 years later still do!
How To Dry Your Flowers
The alternative is to dry your flowers by yourself or ask a friend or family member as you will probably be a bit busy straight after the wedding - just think honeymoon!
If you want to air dry your flowers, the easiest way to do this it to hang them upside down for 2-4 weeks. The petals will become dry and a bit more fragile so you may want to spray with hairspray to preserve them more.
I tried this with a beautiful bouquet of red roses. Their color was more brown than red but they have held their shape, they are very delicate so won't be as long lasting as pressing them but are much easier to display in a vase.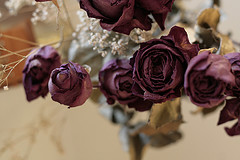 You could press your flowers, you will need blotting paper, newspaper and lots of heavy books or a flower press. Take your bouquet apart and press each flower seperately. Put each flower on some blotting paper and then place a piece of blotting paper on top. Put newspaper underneath and on top of the blotting paper and then pile as many heavy books and objects as you can find and won't miss for the next few weeks. After a few weeks take a look at the flowers - some may need longer but you will know if they are ready by the look and feel of them. They are now ready to frame - I found the spray mount (glue) works the best and is not as messy. You could also put your pressed flowers in your wedding scrapbook.
Another option is to dry them in your microwave, however to do this you will need to take your bouquet apart and remove any wires. There is a great tutorial on WikiHow here, and you will need Silica Gel for this.
You could always preserve your flowers forever by choosing a silk bouquet and at least this way you could still toss your wedding bouquet for all your single female guests!

As an Amazon Associate I earn from qualifying purchases.
Other links on this site may lead to other companies that I'm associated with and this is how I can keep this site going and save you money on your wedding. 
Keep Up To Date With All The Latest Wedding Savings
top of page