Home > Reception Menu > Food Truck
Wedding Truck Ideas On A Budget
Find the cheap wedding ideas you are looking for:
Choosing to have a Wedding Truck for your reception is fun, cool and should save you money on a formal sit down wedding menu. In most cases you could save up to $40 per head with the average food cost of a wedding food truck being as low as $10 to $30 per head.
These top tips will help to make sure everything goes smoothly.
Top 12 Cheap Wedding Food Truck Tips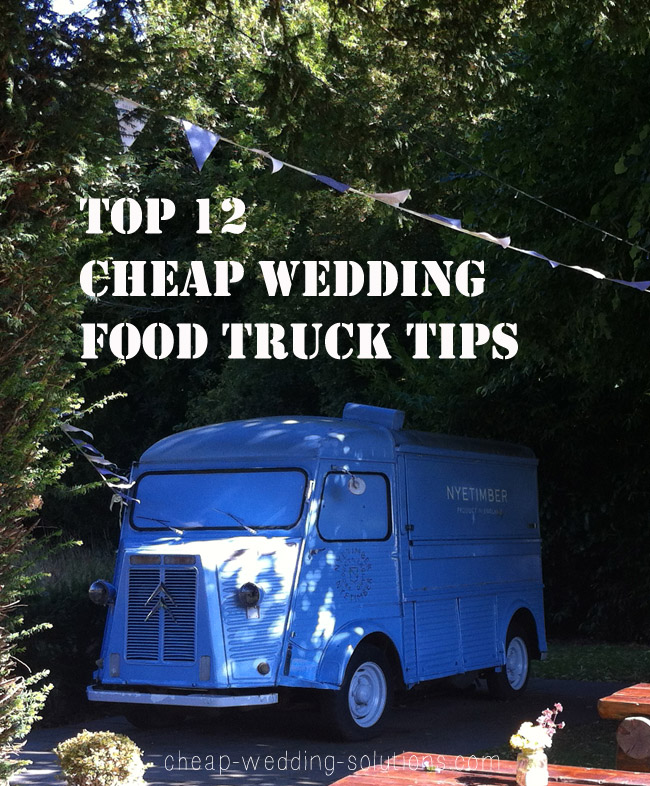 1. Choose your Food Truck to what you know your guests will like.
This sounds obvious but you really want your guests to enjoy the food and have a great time. 
On a practical money side you want them to be eating the food from the food truck as it is, rather than picking and choosing bits.
Image by Bobby B Brown
2. Make sure you have agreed with the food truck as to portion size because you don't want to have to pay for extra food if some of your guests have asked for more than you budgeted for.
3, It is a good idea to have a buffet table in front of your food truck to have food "plated" and ready for your guests, This will stop queues and ensure your guests don't over eat!
4. Have cheap filler food such as salads and breads on a buffet to compliment your Food Truck.
5. Save money by not hiring cutlery and just have disposables, Food trucks are used to serving food this way anyway rather than on plates so this fits with the theme as much as it saves you money. 
6. If you have a lot of guests you may want or need to hire more than 1 food truck, This gives you the option to have a more expensive food truck and a cheaper food truck.
7. Cheapest Food Truck options can be
Mexican - some brides have been able to find food trucks for under $10 per head.
Italian - think rustic pizzas and filling pasta dishes
Vegetarian - mostly cheaper than a meat option
Burgers - quick to serve
Ice cream for dessert or for a late night treat
8. Even if you would prefer to have a sit down meal for your reception, you can still save  by having a food truck for dessert or appetizers or even late night snacks.
9. Food trucks also mean that you can look at holding your wedding at a place that doesn't have a kitchen, which will often mean you can use a cheap wedding venue.
10. Food trucks that are used to big events quite often have their own serving staff that they can bring in which will be cheaper than hiring staff separately.
11. Bar trucks are also worth looking at if your venue doesn't have a full bar. They are also quite a lot cheaper and quite possibly do arrival drinks, signature cocktails and other drinks just as well, if not better.
Photo by Andy Rogers
12. Create your own Food Truck by
Finding a friend with either a campervan or a truck
Decorate the van with bunting and a chalkboard showing what food you are offering
And then choose food that is easy to prepare and serve. It is best if this is cold food, unless you are thinking of having a BBQ or similar.
As with all wedding planning please make sure you check references for your food truck and also if they have catered for a wedding before.
As an Amazon Associate I earn from qualifying purchases.
Other links on this site may lead to other companies that I'm associated with and this is how I can keep this site going and save you money on your wedding. 
Keep Up To Date With All The Latest Wedding Savings
top of page