Cheap Wedding

›
Invitation
› Examples
Wedding Invitation Examples

You Can Make At Home
Find the cheap wedding ideas you are looking for:
Wedding invitation examples that won't break the bank!
It is amazing the price of some wedding invitations, you fall in love with a particular design, it fits your style and your wedding but not your budget. What do you do? You can either find an amazingly cheap alternative in the sale, buy a wedding invitation kit or make your own.
All you need to make the latest designs yourself are a computer, internet access and a graphics package. There is a free trial for photoshop for 30 days, this is what I use, there are others - Serif also has free software and you can also look at using PicMonkey which is a free online graphic tool.

If you are wanting a monogrammed wedding invitation then take a look at the tutorials here!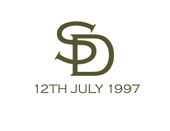 The step by step instructions are easy to follow, and before you know it you will have designed your own monogram and will be printing it on everything! Yes I mean everything - you can easily get carried away. The beauty of a monogram is that you can print them on your invites, save the dates, programs, favors, menus - let me know if there are any other uses! The monogram I have designed only took 5 minutes, you would obviously spend longer and have a few extra twirly bits!
Another very popular wedding invitation design is damask, you can find it in every possible color combination and there are lots of free designs to download and have a play with. Even Microsoft has a free template that you can fill in the blanks. To make it more personal to you, copy the graphics and change the color of the damask to match your own colors - the black and yellow color scheme that they have chosen won't be to everyone's tastes!
Photoshop Wedding Invitations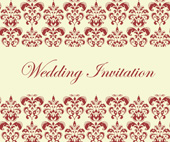 This damask invite has been created using photoshop. To create a similar design yourself download the free 30 Day Photoshop trial.
Open up a new document in photoshop. You will find this under file. Choose the size of the image you want.
If you want a colour background it is best to use coloured paper otherwise you will use up all of your ink just on the background.
Copy a design or pattern that you like either by scanning an image and then copying and pasting onto the invitation document or finding a pattern that you like online. This damask pattern came free with a magazine.
When you are happy with the placement of your pattern you may want to add wording to the front. You can keep this the same color as your pattern by choosing the eyedropper tool in the left menu and then clicking on a part of the pattern that you want to use the color from.
And you are done! I always check how the invite will show on the page by looking at the print preview.

Another popular idea is to use black and white photographs of the two of you, it could be fun - ie in a photobooth with you both holding up the date cards or more romantic. These can be printed onto postcards - saving you a fortune in postage and also printing!
If you would prefer to have someone else make your invitations you can get a number of wedding invitation examples sent to you through the many wedding stationery suppliers. This way you get a chance to see the quality of the print and the paper that they use. Some companies will charge you for those but then the cost will be taken off your order. So don't go mad and order loads of samples, wait until you have found the company that you want.
Keep looking out for new ideas for your invitations and if you want to know how to make your own particular design drop me a line in the help section!
Invitation Examples And Samples

Zazzle has a number of different wedding invitations that you can personalize on their site. It is such an easy site to use.
Prices range from a couple of dollars per invite which is a good deal.
They also have a lot of extra stationery like; save the dates, RSVPs, thank yous, stickers etc if you wanted to have everything to match.
Ann's Bridal Bargains also has FREE Wedding Invitation Samples
As an Amazon Associate I earn from qualifying purchases.
Other links on this site may lead to other companies that I'm associated with and this is how I can keep this site going and save you money on your wedding. 
Keep Up To Date With All The Latest Wedding Savings
top of page